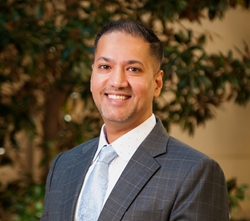 Dr. Sehgal brings with him seven years of orthopedic practice experience using the latest techniques in sports medicine and minimally invasive surgery. - Robert E. Bayless, MD
SOUTHLAKE, Texas (PRWEB) November 01, 2018
Precision Orthopedics & Sports Medicine is pleased to announce that Dr. Bantoo Sehgal has joined the practice as one of their Orthopedic Surgeons and Sports Medicine Specialists.
Dr. Sehgal is an experienced, board-certified Orthopedic Surgeon who is fellowship-trained in Sports Medicine. He graduated from State University of New York at Stony Brook and went on to receive his Doctor of Medicine at Ross University School of Medicine. Dr. Sehgal did his Orthopedic Surgery residency through New York Medical College at St. Vincent's Hospital in Manhattan and his Sports Medicine fellowship at Kaiser Permanente Orange County. He is a member of the American Orthopedic Society for Sports Medicine, the Arthroscopy Association of North America, and the International Society for Hip Arthroscopy. He is a fellow with the American Academy of Orthopedic Surgeons.
Specializing in conditions of the hips, knees, and shoulders, Dr. Sehgal's focus is joint preservation and minimally invasive orthopedic surgery. He dedicated a year of training to research and is published in distinguished medical journals. When asked why he chose medicine, Dr. Sehgal said, "As a child, I was often sick and in and out of the hospital. I really admired the hard work and dedication of the physicians who cared for me. These experiences inspired me to follow a career into healthcare. I see medicine, particularly orthopedics, as one of the few professions that allows patients to regain their quality of life. I chose my sub-specialty in sports medicine because it allows me to further integrate my love for technology and use it to perform cutting-edge minimally invasive procedures."
Dr. Sehgal is Board Certified by the American Board of Orthopedic Surgery and has a Subspecialty Certificate in Orthopedic Sports Medicine. He has an extensive background in team sports, including high school varsity football coverage for NYC Public Schools Athletic League and El Modena High School and Division III College Football Coverage for Chapman University. He was also the Head Team Physician for Ada-Borup High School Athletics and the Texas Revolution Professional Arena Football team.
Robert E. Bayless MD, President and Founder of Precision Orthopedics & Sports Medicine, shared "Precision Orthopedics and Sports Medicine is proud to announce the addition of Bantoo Sehgal M.D. to our group. Dr. Sehgal is a board-certified orthopedic surgeon who is fellowship trained in sports medicine and is an expert in nonoperative and operative care of all musculoskeletal problems and injuries. Dr. Sehgal brings with him seven years of orthopedic practice experience using the latest techniques in sports medicine and minimally invasive surgery."
Precision Orthopedics & Sports Medicine is excited to have Dr. Sehgal on the team. To schedule a visit, call the office at 972-438-4636 or visit their website at PrecisionOrthoSports.com.
About Precision Orthopedics & Sports Medicine
Precision Orthopedics and Sports Medicine, formerly Irving Orthopedics and Sports Medicine, has been providing quality patient care since 1992. Their team of physicians offers high quality in orthopedic care in all areas including hand, upper extremity, foot, ankle, hip, knee, spine, trauma, fractures, total joint replacement, sports medicine, regenerative medicine, arthroscopic surgery, physical medicine and rehabilitation. Services available on site in their Irving and Southlake offices are general office visits, consultations, injections, stem cell therapy, physical therapy, MRI, X-Ray, and surgery for patient convenience. Located in their Southlake office, the Precision Ortho Express clinic is an orthopedic express access clinic offering total orthopedic solutions for patients on a walk-in basis.