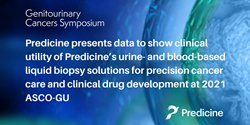 The focus of our blood- and urine-based liquid biopsy solution at ASCO GU 2021 is reflective of our patient-centric approach to GU cancer
HAYWARD, Calif. (PRWEB) February 11, 2021
Predicine announced today that new liquid biopsy data will be presented at the 2021 American Society of Clinical Oncology Genitourinary (ASCO GU) Cancer Symposium, taking place from February 11-13, 2021.
Among featured highlights are the urine- and blood-based liquid biopsy study in bladder cancer and prostate cancer, providing the oncology community with optimism of the urine- and blood-based approach to non-invasive diagnosis and monitoring of bladder and prostate cancers.
The first study (Poster # 491) will present the robustness and superior performance of urine-based liquid biopsy than blood in non-muscle invasive bladder cancer (NMIBC) and muscle-invasive bladder cancer (MIBC) setting, demonstrating the clinical utility of urine-based liquid biopsy treatment selection, disease monitoring, and early cancer detection.
The second study (Poster # 486) to be presented is a phase II clinical trial (NCT03113266) applying the blood-based PredicineATLAS assay to measure mutational landscape and blood TMB towards personalized anti-PD-1 immunotherapy (toripalimab) in metastatic urothelial carcinoma (mUC).
The third study (Poster # 159) will be presented in metastatic castration-resistant prostate cancer, demonstrating the clinical impact of blood-based detection of copy number variations (CNVs) in the PTEN-PI3K-AKT and AR pathway, especially PTEN copy number loss.
"Our priority at Predicine is to bring cutting-edge liquid biopsy solution to advance the treatment of cancer patients across the disease continuum. The focus of our blood- and urine-based liquid biopsy solution at ASCO GU 2021 is reflective of our patient-centric approach to GU cancer," said Dr. Shidong Jia, Founder and CEO of Predicine. "We look forward to its clinical application in personalized patient care and clinical drug development."
Notable data that will be presented at the meeting is listed below. All posters will be available for viewing on demand via the Genitourinary Cancers Symposium website from February 11 through February 13, 2021.
Abstract 491
Superior molecular pathology of urothelial bladder cancer using urinary cell-free DNA.
Abstract 486
Circulating tumor DNA analysis of genomic alterations in metastatic urothelial carcinoma from NCT03113266 study
Abstract 159
Plasma cell-free DNA profiling of PI3K/Akt pathway aberrations in two multi-institutional independent metastatic castration-resistant prostate cancer (mCRPC) cohorts.
About Predicine
Predicine is a molecular insights company in Silicon Valley that is committed to advancing biomarker-driven precision medicine. Predicine has developed a breakthrough cell-free DNA and cell-free RNA based liquid biopsy technology for non-invasive cancer profiling, disease monitoring, assessing minimal residual disease, and early cancer detection. The company has launched a portfolio of blood-based and urine-based assays for solid tumors and hematologic malignancies. Through its CLIA and CAP facilities in the US and China, Predicine partners with leading biopharma companies and hospitals to support global clinical trials and personalized cancer care. Further information is available on the company's website, http://www.predicine.com. Stay in touch on LinkedIn or on Twitter @Predicine.