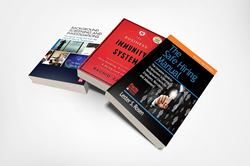 "While we created the Article Library with HR Professionals in mind, it also is an invaluable resource for the media who may be researching a specific topic or seeking information about background screening."
ALPHARETTA, Ga. (PRWEB) January 15, 2019
PreemploymentDirectory.com, the background screening news and information portal for Human Resources professionals, announces the addition of 'Books on Background Screening' to their renown Background Screening Article Library.
The Article Library is part of the extensive Background Screening Knowledge Center which is a comprehensive information source for Human Resource professional on background screening.
W. Barry Nixon, the founder of PreemploymentDirectory.com, said "Our Background Screening Knowledge Center and Article Library are second to none in providing in-depth news, information and content about background screening. If it happened and was in the news, we likely have information on it in the Article Library."
The Article Library is set up to make it easy for HR professionals and others to quickly and easily find the information they are looking for. Articles can be found by searching on keywords or by selecting by category. Our categories include the most frequently sought areas such as FCRA class action lawsuits, ban the box, background screening trends and benchmark reports, drug screening, data protection, salary history checking, accreditation, eVerify, cost of bad hires, social media screening, international and many more.
Nixon added, "While we created the Article Library with HR Professionals in mind, it also is an invaluable resource for the media who may be researching a specific topic or seeking information about background screening."
You can access the Article Library here or by going to PreemploymentDirectory.com and accessing through the Background Screening Knowledge Center.
Please direct any questions to W. Barry Nixon at 1-949-770-5264 or you can email him at wbnixon(at)PreemploymentDirectory(dot)com.
ABOUT PREEPLOYMENTDIRECTORY.COM:
PreemploymentDirectory.com is the leading background screening news and information portal on the web and houses the leading directory of background screening companies designed to make it easy for organizations to quickly find a background screening provider to meet their needs. The web site includes a Background Screening Knowledge Center which houses the Article Library, U.S.& International Resource Centers, Accreditation Resource Center, Expert Insights, Background Screening Essential, Worldwide Calendar of Events and Public Records Information Center. The web site also includes a Background Screening Publications Center which houses many of our publications: The Background Buzz, The Global Background Screener, In Search of Excellence in Background Screening: Best Practice Insights from Accredited Background Screening Firms, Women Leaders Thriving in the Background Screening Industry to name a few.