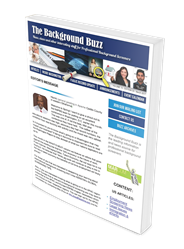 "We have a singular goal; to be a comprehensive source of news and information about background screening to enable background screening professionals to stay current on news that is relevant to their work."
ALPHARETTA, Ga. (PRWEB) January 08, 2019
PreemploymentDirectory.com, the background screening information portal for Human Resources professionals, announces the January edition of the 170th edition of The Background Buzz. The award-winning publication is the leading news and information source for professional background screeners.
The Background Buzz is published in digital format monthly to a worldwide background screening audience. In our recent survey of subscribers, 98.6 percent reported that they were 'very or somewhat' satisfied with The Background Buzz and 90 percent use it as their primary source to keep up with industry news, trends and topics.
W. Barry Nixon, the creator of The Background Buzz, said: "We have the singular goal; to be a comprehensive source of news and information about background screening to enable background screening professionals to stay current on news that is relevant to their work." Topics regularly included are employment/tenant screening news, legal issues, drug screening news, data protection & privacy issues, immigration status & eVerify issues, biometrics and more. Regular columns include U.S. Legal Challenge and Drug Screening Challenge which test readers knowledge of background screening legal requirements in both respective areas.
Here's what some of our readers have said about 'The Background Buzz' over the years and our 170 editions:
October 31, 2018
"Goodness Barry, I spent over 3 hours working through all the information and links in this better than ever Background Buzz. Education day, even for the industry guru.
Thanks for this great work."
Bruce Berg, Berg Consulting Group
June 2008
"Hi Barry, Your e-zine is a fantastic source of relevant news and information about the background screening industry."
John McTighe, Strategic Information Resources (now Background Decisions)
April 2008
"[The] Background Buzz' is an excellent source of information and a great way to keep in touch with the background screening industry, its members and vendors."
Ken Will, former partner, AdMed Consulting
February 2006
"I personally enjoy reading the timely articles in the Background Buzz. Knowing what is going on in our industry is very important and the Buzz is very timely and easy to read.
The PreemploymentDirectory is one of the few sources that list screening companies. If your in business, you must list yourself to be recognized and found."
Barry J. Nadell, former President, Info-Link and past Chair, NAPBS
Nixon, added, "It has been an awesome journey which we have thoroughly enjoyed. I am extremely proud of our team for making The Background Buzz the 'go to' source for information on background screening and the icing on the cake has been that we have met some great people throughout the industry."
You can access a copy of The Background Buzz by going to PreemploymentDirectory.com and accessing through the Background Screening Publications section. Subscriptions are free for professional background screeners inside organizations and outsourced service providers.
Please direct any questions to W. Barry Nixon at 1-949-770-5264 or you can email him at wbnixon(at)PreemploymentDirectory(dot)com.
ABOUT PREEPLOYMENTDIRECTORY.COM:
PreemploymentDirectory.com is the leading background screening information portal on the web and houses the leading directory of background screening companies designed to make it easy for organizations to quickly find a background screening provider to meet their needs. The Directory includes a Background Screening Publications center which houses many of our publications: The Background Buzz, The Global Background Screener, In Search of Excellence in Background Screening: Best Practice Insights from Accredited Background Screening Firms, Women Leaders Thriving in the Background Screening Industry to name a few.