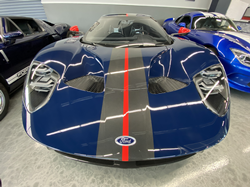 We are currently on a nationwide search for additional team members who are skilled at, or interested in developing high-end paint and finishing techniques.
ROCHESTER, Mich. (PRWEB) December 14, 2020
Michigan-based Prefix Corporation has added over 30,000 square feet of production space to their existing facility in Auburn Hills, Michigan, expanding production capacity of their world-class paint and finishing operations. In addition to the expanded footprint, Prefix has also invested in new state-of-the-art equipment and technologies to enhance quality and color consistency.
"We've been very fortunate to attract and work with clients who have very specific high-end paint and finishing requirements for specialty performance supercars and ultra luxury vehicles." explained Prefix President, Eric Zeile. "The design of this facility lends itself perfectly for these types of low volume paint production and assembly programs."
Prefix has been in business for over 40 years, and is the recognized leader for the creation of the transportation industry's most technologically advanced concept vehicles, prototypes, and assisting new EV companies with the development of emerging automotive and aerospace innovations. Even with the instability caused by COVID-19, Prefix maintained growth and was awarded local recognition as "The Best of Michigan Business" and a "Sunrise Pinnacle Award" from the Rochester Area Chamber of Commerce, as one of the area's most visionary businesses, and for their community involvement and support during the pandemic.
The Prefix paint operation started back in 2013 when they were awarded the vehicle paint program for the attention-getting Dodge Viper. The striking paint finish of the Viper was provided, courtesy of the Prefix team's ability to complete the entire job by hand. No robotics or typical automation was used, and… owners could order their car in ANY color they could imagine. This unique low volume program lead to Prefix handling high end paint finishes for additional prominent supercars, ultra luxury vehicles, and other stunning paint programs.
"All indications are, this will continue to be a growing part of our company." continued Zeile. "We are currently on a nationwide search for additional team members who are skilled at, or interested in developing high-end paint and finishing techniques. We now have four facilities with many opportunities for growth within the organization, which is very attractive to those looking for a unique and rewarding career." So…2021 looks like it will be another year of incredible looking vehicle colors being processed through the Prefix doors."
For additional information on Prefix Corporation, or to become part of the Prefix team, visit the company web site. Prefix.com