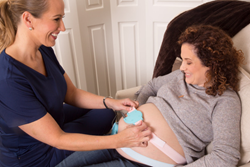 Receive Board Certified Prenatal and Gynecological Care In Your Home
MARIETTA, Ga. (PRWEB) April 06, 2020
Healthcare has taken a sudden and dramatic turn these last few weeks, and doctor's offices across the world are having to close or accept the risk of spreading the COVID-19 virus in their offices. Many OB/GYN offices that have remained open are not allowing expectant moms' partners to attend their prenatal visits with them. Hospitals are also determined to decrease exposure risk by restricting support people for laboring woman to one person for their entire hospital admission.
From the patient's perspective, it's a tough decision: They can either seek prenatal or gynecological care and risk becoming infected with COVID-19, or NOT seek these essential services and risk their baby's health or their own health.
Thankfully, there's a new service being offered through OB2me that enables women to get the care they need without putting them and their babies at undo risk and without the need to change doctors.
OB2me provides prenatal and GYN visits in the comfort and safety of women's homes. Our provider will send a visit summary report to her primary OB/GYN care provider after each visit, so while using OB2me, she won't need to switch providers. OB2me's services are offered at a flat fee, paid per visit, with no obligation to continue services.
Also, NO ONE wants to RISK going to the hospital unnecessarily during this COVID-19 pandemic. So in addition to providing standard prenatal visits, on April 1st OB2me began offering in-home triage services for expectant women who may be unsure if it's time to go to the hospital to deliver. The Ob2me provider will go to the expectant mother's home and provide a thorough labor check to help them decide if it really is time to go to the hospital. This will prevent unnecessary risky and expensive hospital admissions for false alarms and help the mother stay home with their support system in the early phases of labor.