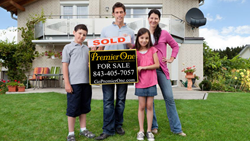 Premier One Promotes the Easiest Online Map Search for Charleston SC Real Estate
Charleston, SC (PRWEB) April 14, 2017
Finding the most suitable Charleston home for sale is no more a hassle, as the premier real estate firm in the area announces their interactive map search feature in their website. With the help of this online map search, it's now a lot easier for a buyer to find a real estate in his/her preferred location throughout Charleston.
Whether someone is relocating to Charleston, or wants to buy a new home in the area, Premier One is the professional and trustworthy real estate firm to rely upon. The real estate firm has a vast listing of Charleston homes and other types of properties. They also offer an advanced search feature that precisely matches the search criteria of a property buyer to suggest the best homes for sale in the area. Besides, their new and interactive map based search feature allows buyers to find properties in their preferred location.
According to the spokesperson of the firm, the location based search covers a number of locations throughout Charleston, including Goose Creek, Isle of Palms, James Island, Kiawah Island, Seabrook Island, Folly Beach, North Charleston, Summerville, West Ashley, Daniel Island, and Edisto Island. Besides the online search, the firm has a team of experienced real estate professionals who are committed to finding the best properties throughout the area that can best meet a buyer's requirements.
Premier One deals in a wide variety of properties in Charleston, available in different budgets. Based on the budget of a buyer, they can shortlist the most suitable properties in the area that a buyer can choose for their own living or for investment purposes. The spokesperson reveals that they can guarantee the best prices for both buyers and sellers, because of their local presence. They know the local real estate market in Charleston and have a good reputation among homeowners in the area. This is the reason why can rest assured of the best prices when completing a real estate deal through them.
To know more about their interactive search feature or to search a property in Charleston, one can visit the website http://gopremierone.com/.
About Premier One
Premier One has evolved over decades of real estate service to bring an enhanced level of commitment to their clients that is truly "Premier". Each agent of the firm has undergone extensive training to meet clients' needs. They have affiliations and contacts nationally and in the local market so that they can give clients an access to premier resources with an advantage of buying or selling homes, land, or commercial property. They maintain up to the minute listing detail on every home in the area and syndication through dozens of the major real estate search engines.
For Media Enquiry –
Contact Person: Tom Wingard
Telephone: 866-337-3127
Email: Info(at)GoPremierOne(dot)com
Website: http://gopremierone.com