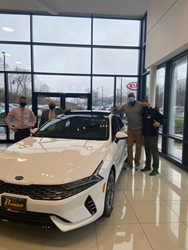 We are excited to have this relationship with Scott Burrell. Our goals are aligned in our commitments to the community
BRANFORD, Conn. (PRWEB) May 03, 2021
Robert J Alvine, President of the Premier Auto Group and Connecticut's own Scott Burrell, NBA Champion and Head Coach of the Southern Connecticut State University Men's basketball team announced today a deal that will have Mr. Burrell give feedback and analysis on various new cars and SUVs. In addition, Mr. Burrell will work with Bob Alvine and the Premier Auto Group team on the various not-for-profit initiatives that the company has with organizations such as Camp Rising Sun - a camp for kids with cancer.
Mr. Alvine said "Scott Burrell is a household name in Connecticut and having him as a consultant will give our team important insights. He's going to be driving all the different models of our cars and SUVs and will be giving us important feedback on each of them. He might be a basketball star, and an extremely talented coach, but he's also a husband, father and homeowner right here in Connecticut. His input as to how our vehicles perform on a daily basis, and in real world situations will be extremely helpful."
Mr. Alvine continued "Scott Burrell is a charitable and philanthropic individual and, his ideas and commitment to charitable organizations align perfect with that of our company. We look forward to working with him."
About the Premier Auto Group:
The Premier Auto Group is a privately held company with four locations in Connecticut. It's owned by Connecticut businessman Robert Alvine, who is a graduate of the University of Rhode Island and a finance major who transitioned from the banking industry into the automobile industry in 2000. The group is comprised of three award-winning automobile dealerships, Premier Kia of Branford, Premier Subaru of Branford and Premier Subaru of Watertown. The company currently has a new 34,000 square foot Subaru facility under construction in Branford, CT. Upon the completion of that facility - Premier will have invested in excess of $35,000,000 in new dealership facilities over the last 5 years in Connecticut.
About Scott Burrell:
Scott David Burrell is an American basketball coach and former professional player who is currently the Men's Basketball Head Coach at Southern Connecticut State University. Prior to coaching, Scott had a 12-year professional playing career, culminating in an NBA Championship with the 1997-1998 Chicago Bulls, who were featured on the ESPN series "The Last Dance" in April 2020.
Scott also holds the honor of being the first American athlete to be drafted in the first round of two major, professional sports (MLB & NBA). He was also a professional baseball player and is the first male athlete to be drafted in the first round in two major sports.