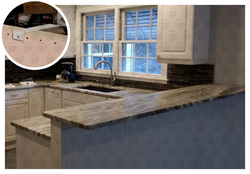 ST. AUGUSTINE, Fla. (PRWEB) November 05, 2018
Centerline Brackets embraces even brighter future thanks to expanding national and global reputation for exemplary products and service.
As part of its sixth anniversary this month, Centerline Brackets, a division of Centerline Steel, LLC, reveals it will open a new, upgraded facility in St. Augustine—the nation's oldest city, situated along Florida's First Coast—to house its production and operations later this year.
Heather DeAntonis, Chris Smith and Tracy Smith launched their business in August 2012 to meet huge demand in North America for countertop supports of the highest-possible quality. The company's products are crafted locally of 100% American steel.
Today Centerline has nearly 30 employees and a flourishing base of customers around the world. The secret to its success? "Our fanatical commitment to customer service and producing the best product possible," says Tracy Smith, who operates Centerline with her husband, Chris Smith, and sister, DeAntonis. "We also have a strong work ethic and look for employees who share that commitment. Most importantly, we pray regularly that we will honor God through our business and follow Biblical principles in its operation."
In addition to announcing its soon-to-open facility, Centerline is celebrating its anniversary with a photo contest (deadline of Oct. 31) that will distribute $21,000—$11,000 to contest winners and $10,000 to charity.
About Centerline Brackets
Centerline Brackets, a division of Centerline Steel, LLC, is a family-owned, "Golden Rule" company dedicated to uncompromising product quality coupled with superior customer service. All brackets are made from American steel and manufactured in Centerline's state-of-the-art facilities in St. Augustine, Fla. In addition to its portfolio of countertop supports meeting the greatest number of conventional needs, Centerline's full-service shop manufactures custom products to match any customer specifications. For more information, visit http://www.CountertopBracket.com and find us on Facebook and Instagram.