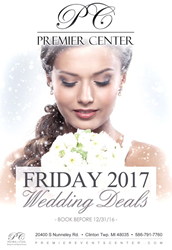 We will have more of a 'modern meets old world with a twist of new age cuisine' and white glove service in a beautifully updated facility.
Clinton Township, MI (PRWEB) November 03, 2016
Entrepreneur Albert Hakim is proud to announce the grand opening of Premier Events Center on the site of the former Zuccaro's Holiday House, located at 20400 S. Nunneley Road in Clinton Township, MI, and that renovations have been completed. "We have enhanced what Zuccaro's was known for and added our own flavor," said Hakim. "The first thing we did was give the building a facelift with renovations inside and out, including a new and fabulous dance floor and updated parking lot. The new facility is amazing."
Hakim added that the venue needed a "celebrity" chef so they got one of the area's most famous, Executive Chef Paul Hohendorf, formerly of the popular Roostertail restaurant in Detroit. Premier Events Center also added great sous chefs to accompany Chef Paul from Italy and France. Hakim proudly claims this newly assembled team has prepared exquisite cuisine for everyone from the Metro Detroit famous to the world famous, including presidents.
"We will become known for the best gourmet cuisine in southeast Michigan, and not your typical 'hall food,'" proclaimed Hakim. "We will have more of a 'modern meets old world with a twist of new age cuisine' and white glove service in a beautifully updated facility."
The new Premier Events Center is picturesque, while maintaining the cozy local feeling everyone loved. It is available for weddings, showers, class reunions, funeral receptions, holiday parties, graduation parties, sports team banquets, and an assortment of catering options.
"We are making it more of an intimate experience and more elegant as well," concluded Hakim. "Our main focus will be the amazing cuisine options. We want that 'wow' factor for every guest and that's our mission. Most halls are drab, and are typically just a place to go and sit and eat. We will be changing that with exciting tasting stations with new experiences like sampling vodka-infused fruits or even tableside-prepared Cherries Jubilee or Bananas Foster. It's going to be a memorable experience for everyone, every time, and even amazing candy stations are available for kids of all ages."
About Premier Events Center
Premier Events Center has been in business for over 70 years. It prides itself on offering great food and impeccable service. Premier Events Center can accommodate up to 1,000 people outdoors and has two banquet rooms: one with a capacity of 350 people and the other with a capacity of 150 people. Both rooms are private and offer handicap accessibility, private bathrooms, private coat rooms, private outdoor patio, and their own bars. For more information, please email Premier Events Center at angie(at)premiereventscenter.com, or call (586) 791-7760. You can also visit their website at http://www.premiereventscenter.com.
About the NALA™
The NALA offers small and medium-sized businesses effective ways to reach customers through new media. As a single-agency source, the NALA helps businesses flourish in their local community. The NALA's mission is to promote a business' relevant and newsworthy events and achievements, both online and through traditional media. For media inquiries, please call 805.650.6121, ext. 361.