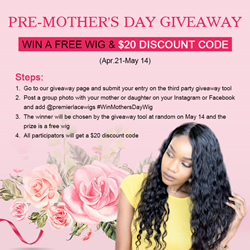 A GREAT MUM DESERVES ALL LOVE,PREMIER LACE WIGS JUST MAKE IT STRONGER
(PRWEB) April 22, 2017
As Mother's Day is coming soon, many people consider buying a special gift for their mums. A dress, jewelry or flower, no they are too ordinary .Every mum wants to have a great look on Mother's Day, so a lace wig is a good idea which is unusual and fantastic and would be a big surprise. Premierlacewigs.com is having a free lace wig giveaway from April 21st to May 14th and it is very easy to win a free lace wig. Below are some steps to enter the giveaway.
1. Go to their giveaway page :http://www.premierlacewigs.com/monthly-giveaway and submit entry on the third party giveaway tool
2. Post a group photo with mother or daughters on Instagram or Facebook and add @premierlacewigs #WinMothersDayWig
3. The winner will be chosen by the giveaway tool at random on May 14 and the prize is a free wig .So everyone has a chance to be the winner.
4. Meanwhile all participators can get a $20 discount code.Contact Premier Lace Wigs to get the discount code after the photos are posted .
They also have a privacy statement for the giveaway: "this activity is just to let everyone express love to mums and our company don't share these photos and use them for any commercial purposes. So just express your love!"
Other than the free lace wig giveaway, Premierlacewigs.com is also having a big Pre-mother's day sale. All lace wigs are of up to 20% off discounted and all orders can receive a free gift: mama bear necklace.
Why is a lace wig a special gift for Mother's Day? Because it can make mums look young and more beautiful. All lace wigs are made of quality human hair which can feel like it is her own real hair and can also change the hairstyles very easily. Unlike a cheap ordinary wig, the lace wig is well constructed with a soft Swiss lace, so it will look very natural and nobody could know it is a wig. A great mum deserves all beauties and this special gift will make mums have a great and memorable mother's day.
About Premierlacewigs.com
Premierlacewigs.com is a leading manufacturer of human hair lace wigs & extensions .They have
full lace wigs, lace front wigs, celebrity style wigs and affordable wigs, etc. Their wigs come with many different styles and all of them are in great quality