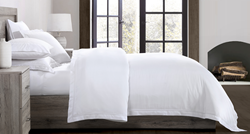 Opening this new facility will help us provide more customers with the products they need to sleep easier.
LUMBERTON, N.J. (PRWEB) November 06, 2020
The Tuck Editor's Pick for Best Egyptian Cotton Sheets, Pure Parima prides itself on supplying high-quality bedding featuring the Cotton Egypt Association seal of approval. As part of its commitment to supplying customers with premium sheets and duvet covers, the company will be moving into a brand-new warehouse and showroom.
"We've built a reputation on supplying luxurious bedding manufactured with 100 percent Egyptian cotton certified authentic by the Cotton Egypt Association," said Founder Parima Ijaz. "Opening this new facility will help us provide more customers with the products they need to sleep easier."
Located at 140 Mount Holly ByPass in Lumberton, NJ, the new Pure Parima facility will feature employee offices and a state-of-the-art showroom. The building is conveniently located near Route 38 and includes plenty of parking. Additionally, the new space will include a warehouse equipped with a real-time ordering, fulfillment, and tracking system and a collaborative mobile pick and pack system. As of next year, Pure Parima plans to add drone delivery for local orders to help shoppers receive their products even faster.
"Pure Parima's product line is constantly expanding, and the new facility was acquired to support the brand's continued growth," said Ijaz. "When customers visit our showroom, they can experience the beauty and softness of our bedding first hand."
Currently, Pure Parima offers two different bedding lines made from the same high-end Egyptian cotton. Featuring super-soft double hem stitched sheets, the Yalda collection boasts a silken finish. Opulent and elegant, the Ariane collection turns heads thanks to romantic scroll embroidery and a timeless design.
Pure Parima sheets and pillowcases come in a wide array of colors, including traditional favorites like white and ivory and rare must-have shades such as charcoal, linen, spa and soft peach. Customers can look forward to a brand-new super cooling, exceptionally crisp, and ultra matte Percale Hotel Collection due to launch in time for the holidays.
All the current Pure Parima collections are available on the website. Shop the selection online or visit the brand-new showroom for yourself and take home complimentary swatches and samples. Pure Parima is committed to ensuring the safety of team members, customers, and visitors alike. Orders are still being fulfilled on time with increased stringent cleaning measures to ensure a safe working and visiting environment for everyone.
Please feel free to email Pure Parima with any questions to info@pureparima.com.