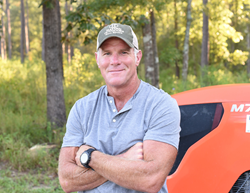 WINDSOR, Colo. (PRWEB) January 08, 2020
Hayden Outdoors Real Estate launches their new TV show this week, airing on RFD-TV and featuring NFL great Brett Favre. On Wednesday January 8th at 8pm Eastern Time on the RFD-TV network, Brett will take viewers on a journey to multiple properties for sale, inside the walls of Hayden Outdoors and with him personally on a 45,000 acre hunting and cattle ranch for sale known as the Cimarron Valley Ranch.
The Santa Fe Trail, monster elk and deer, a Montana dream property, a historic Colorado fishing resort, and insight into a land broker's life will be featured in this week's show, airing on America's #1 rural broadcast network. With an emphasis on rural landowners, ranches and farms for sale and sporting excursions across the country, Hayden Outdoors wanted to find a host with a tie to land and the great outdoors. Brett Favre was the perfect fit.
And the sponsors of the new TV show are excited to work with such a household name as Mr. Favre. Companies sponsoring the show include Jet It, Polaris, Ag America Lending, Greeley Hat Works, Eukanuba, Gunwerks, Revic, Maverick Hunting Blinds, Western Heritage Consulting and Engineering, Kryptek and Hooray Grills.
"We look to partner with excellent products that our clients and the viewers assimilate with and will enjoy," said Dax Hayden, Managing Partner of Hayden Outdoors. "From off-road vehicles to quality firearms, cowboy hats to private jet services, our sponsors are the best of the best and we're proud to have them on our show."
Hayden Outdoors Life on the Land TV will air on RFDTV beginning January 8, 2020 and include three airings weekly. For information on the show please call Dan Brunk at 970-674-1990.
About Hayden Outdoors: Hayden Outdoors, LLC is a family-owned and operated real estate brokerage started in 1976 that is based in Windsor, Colorado. With over 100 licensed brokers, agents and staff across multiple states, Hayden Outdoors is recognized as one of the largest land brokerages in the United States and ranked one of the "Best Brokerages" every year since 2011 by The Land Report Magazine. In September, Hayden Outdoors will seek to put roots down in areas that already border their current footprint and looks to bring its full real estate services to states that align with the firm's strategic plans. Learn more by visiting http://www.HaydenOutdoors.com.