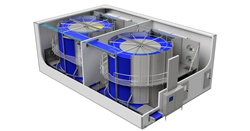 LOWESTOFT, England (PRWEB) November 09, 2021
Butternut Box is on a mission to "put the food back into dog food", using freshly prepared human-quality meat and vegetables for the nation's much loved pets. Delivered direct to the doors of the pet owners, the company offers homemade, healthy meals that are tailored to the requirements of each individual dog, intended to improve their health conditions and well-being.
The premium pet food brand has a 5-year business growth plan to double sales year on year, a strategy that has driven the company's success since start up in 2016. A move into a recently acquired industrial unit measuring over 150,000 sq.ft has enabled Butternut Box to invest in the latest technology as the business continues to grow. When it came to expanding production capacity and upgrading its entire static freezing system, Butternut Box selected Starfrost to provide a turn-key cooling solution.
Working in partnership with parent company Star Refrigeration, Starfrost implemented an end to end cooling solution for Butternut Box that has delivered benefits of energy efficiency and improved product quality.
Starfrost designed, manufactured and installed a Double Helix spiral freezer for Butternut Box that operates using an ammonia refrigeration plant supplied by Star Refrigeration. The project benefited from the expertise of the worldwide cooling solutions supplier and the UK's leading industrial refrigeration company.
The Double Helix spiral freezer has been designed to freeze c.4000kg per hour of vacuum packed dog food pouches, which has assisted Butternut Box in doubling its processing capacity. The automated spiral freezer provides a continuous freezing solution that has allowed Butternut Box to significantly reduce freezing times and improve the quality of its freshly prepared products.
Marco Attanasio, Head of Strategic Projects at Butternut Box says: "Butternut Box has recently made a large investment to implement new technology within our processing line to drive continuous growth of the business. Our new spiral freezer and refrigeration plant forms part of that strategy and has assisted the business with doubling production this year. The design specification also supports our overall growth plans allowing for future expansion."
Marco adds: "Since the installation of our new freezing equipment, we have considerably reduced our freezing times in comparison to the static freezers that were used before and the method of freezing is consistent which has greatly improved the quality of our end product."
Starfrost worked together with Butternut Box to design a freezing solution with high efficiency and low carbon footprint in mind. The Double Helix spiral freezer operates with two separate temperature zones which significantly reduces the total number of kW's of low temperature refrigeration Butternut Box require to freeze the produce. This reduces the overall operational cost of the refrigeration system and emits less carbon into the atmosphere, whilst improving quality of the packaged products.