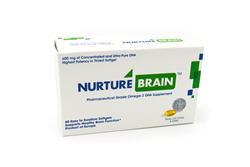 "We are pleased that our high quality DHA supplements tested free-from the platinum-induced fatty acid 16:4(n-3) (hexadeca-4,7,10,13-tetraenoic acid)," said Sapna Misra, President of Anpas Global.
LAGUNA NIGUEL, Calif. (PRWEB) July 10, 2019
Anpas Global, makers of the high concentration Premium Omega-3 DHA brand of supplements is the first company to have their products certified free-from C 16:4 (n-3) in the nutrition industry.
"Since the launch of our flagship consumer product, Nurture Me® in 2015, all our DHA supplements have been voted top quality health supplements three years in a row. Thus, it came as no surprise when a third-party lab test report confirmed that our products tested free-from the platinum-induced fatty acid 16:4(n-3) (hexadeca-4,7,10,13-tetraenoic acid)," said Sapna Misra, President of Anpas Global.
Positive Customer Impact
New and emerging research shows that certain PIFAs (platinum-induced fatty acids) like C 16:4(n-3) induce systemic resistance to a broad range of DNA-damaging chemotherapeutics. While more studies are needed in this area, Researchers have discovered that cancer cells become less sensitive to chemotherapy in the presence of certain PIFAs.
Although the PIFA C 16:4 (n-3) is not a fish fatty acid, it may occur in some commercially available fish oil supplements. These scientists therefore advise against using fatty fish and / or fish oil supplements during chemotherapy as these PIFAs seem to protect the cancer cells against chemotherapy and render it less effective.
Anpas Global anticipates that with this new certification showing the absence of C 16:4 (n-3) in their products, researchers and pharma companies may see their Premium Omega-3 DHA supplements as favorable and safe adjunct therapy.
About Anpas Global
In January 2015, Anpas Global entered the consumer health products space with Nurture Me®, the smallest size omega-3 DHA supplement for women 18 to 55 years. Within nine months from launch it was voted top women's health supplement by the SupplySide CPG Editor's Choice Awards. The following year, its second consumer product, Nurture Kids® DHA supplement for children, was also nominated Top 5 Children's Health Product by the Supply Side CPG Editor's. Finally, in 2017 their third consumer product Nurture Brain® a high concentration Omega-3 DHA Fish Oil supplement delivering 600 mg of pharmaceutical grade DHA per dose was also voted top Brain Health Supplement by the Supply Side CPG Editor's Choice Award.
The company's DHA supplements are made with ultra-concentrated triglyceride fish oil, especially formulated to prevent the smell and taste of fish. Each perfectly portioned tiny softgel has 300 mg of DHA. Unlike bottled fish oil products, their brands come individually wrapped in Pharmaceutical Grade Blister Strip Packaging to preserve freshness and product stability. To instill trust and transparency among consumers, each product comes with a Third-Party test report from Pace Analytical, an Independent Testing Lab certifying the products free from Mercury, and other Environmental Contaminants.
Product Availability
Premium Omega-3 DHA supplements are sold under the brand names Nurture Me®, Nurture Kids® and Nurture Brain®. The company sells their supplements exclusively online through their website http://www.premiumomega.com and on Amazon.
References on the scientific research about C16:4(n-3) PIFA and chemoresistance can be obtained from Anpas Global.