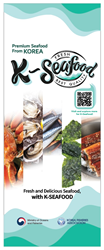 NEW YORK (PRWEB) November 18, 2020
The launch in 2017 of the Korean Fishery's national brand, K-FISH, aimed to promote the quality of Korean seafood and enhance its global competitiveness. Each year since then, the Korean Fishery office has held two-week-long promotions in many countries entitled "K-Seafood Global Weeks." This year's more extensive efforts have expanded to include B2C (business to consumers) by also introducing Korean seafood products to consumers online as well as offline. These special showcases are currently running in the U.S., Japan, Philippines, Malaysia, Indonesia, and other countries at the same time.
These events introduce K-FISH seafood products and stress the clean ecological environment for its production, their strict brand usage guidelines, and its rigorous quality management. Their 14 Korean seafood products available for export are: Gim (Laver Seaweed), Miyok (Sea Mustard), Oysters, Abalone, Sea Cucumbers, Fish Cake, Red Snow Crab, Seasoned Squid, Conger Eel, Flatfish, Tuna, Baby Calms, Roes and Mackerel.
These showcases are open to public.
You can also visit our website at http://www.kfish.co.kr & http://www.kseafoodusa.com
About K-FISH
K-FISH is the famous Korean Fishery national export brand that offers premium seafood for global seafood lovers. Based on their clean seas, their advanced management, and their stringent tests, K-FISH's products are of the best quality and very safe. Now you can purchase their wonderful seafood in U.S. markets. Every product is a precious gift from their pure seas and matches their meticulous procedures.
All of their delicious seafood is from Korea!