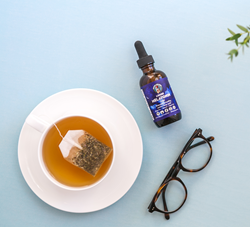 Rockin' Wellness has always believed in a holistic, full body approach to health and wellness and that starts with a good and restful night's sleep. Sleep Formula will help you get the quality sleep you need, waking up refreshed and ready to tackle your wellness goals. - David Finkelstein, COO
LONG ISLAND, N.Y. (PRWEB) February 11, 2021
Rockin' Wellness is excited to introduce the first product of its vegan-friendly, organic Essentials line - Sleep Formula, a drug-free, all-natural, fast-acting liquid melatonin.
Sleep deprivation is an issue affecting millions of Americans that can habitually lead to mood changes, weight gain, memory issues, lack of concentration, and other more serious symptoms.
"As a health and wellness company, we believe in a holistic full body approach and that starts with a great and restful night's sleep," says David Finkelstein, the COO. "Our Sleep Formula provides healthy, deep, quality sleep without the morning grogginess."
Compared to tablets, capsules, or gummies, liquid melatonin is quickly absorbed, making it more effective in helping you fall asleep faster.
With just a 1-2 drops of Sleep Formula at bedtime, you can fall asleep faster, get a continuous cycle of sleep, and wake up feeling refreshed. Sleep Formula is a reliable, bedtime solution that won't make you feel groggy, drowsy, or tired upon, waking up in the morning.
About Rockin' Wellness
Founded by Seth Luther, a music tour manager in 2011, Rockin' Wellness offers 5 functional superfood mixes composed of 5 to 9 powerful, nutrient dense superfoods high in micronutrients, including vitamins, minerals, antioxidants, and amino acids. Rockin' Wellness ethically sources its ingredients - superfoods such as cacao, goji berry, maca root, hemp seed, flax seed, chia seed, wheat grass, barley grass, spirulina, as well as adaptogenic mushrooms (reishi, shiitake, maitake, and cordyceps). Rockin' Wellness is committed to providing high quality, health-conscious supplements in a delicious, accessible format.