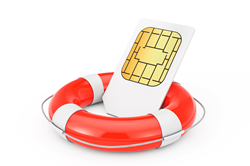 "White label prepaid card programs are becoming increasingly significant to start-ups and small businesses seeking to grow as well as established businesses in fueling growth and customer retention," said Jason McGregor, GM US Market
ORLANDO, Fla. (PRWEB) September 03, 2020
The numbers don't lie. The global market for prepaid cards is expected to reach $3.1 trillion by 2022. The FDIC meanwhile estimates that approximately 51 million Americans who have a bank account supplement that with financial services like a prepaid Visa and Mastercard. And the number of consumers who use prepaid cards has been rapidly escalating year-over-year since 2006.
According to experts at KBL Holdings (KBL), the statistics reinforce the essential role that prepaid cards are playing in financial inclusion and opening up never-before-available opportunities for individuals and businesses globally. KBL is a global provider of prepaid card issuing software design and management.
In fact, between 2011 and 2014 alone, more than 1.2 billion people worldwide without bank accounts gained access to the financial system and alternative means of using their money, allowing them to improve their own and their families' quality of life and start or grow businesses. And prepaid cards were a significant factor in that. White label prepaid card programs, likewise, are being adopted at a faster rate giving the businesses who employ them an additional revenue stream and a means of attracting new customers and retaining existing ones.
White label prepaid cards are branded with a business's name and logo. Experts like KBL have core solutions that can be white-labeled inside 30 days, and they assist with day-to-day management. The program's front-end generally comprises a website and web portal tied to iPhone and Android apps for card management, sending payments, and any enhanced card services. Its back-end typically comprises administrative portals, API connections, and secure encryption for sign-ups, KYC, sponsor banks, call centers, and fulfillment centers. Card features can include things like card-to-card payments, multi-currency transactions, ATM access, a rewards program, direct deposit load, fraud protection, text alerts, and more.
"White label prepaid card programs are becoming increasingly significant to start-ups and small businesses seeking to grow as well as established businesses in fueling growth and customer retention. Likewise, the spending analytics generated from these programs provide invaluable information that can be used to boost customer services, for long-term success continually," said Jason McGregor, GM US Market.
For more information about KBL Financial Solutions, including the software for your firm's own card issuing platforms, go to http://www.kblholdings.com/.