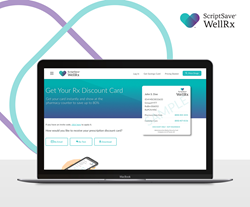 "Most people are not aware of the numerous potential drug interactions and side effects. The ScriptSave WellRx interactions tool better informs consumers of any potential risks in their lifestyle, prescribed and over the counter medication therapy." Dr. Marcus Sredzinski, COO ScriptSave WellRx
TUCSON, Ariz. (PRWEB) July 27, 2020
The prescription discount program, WellRx, has released new features on their website, giving consumers more grocery guidance and drug expertise options on their platform. The new functions guide consumers towards healthier food alternatives as well as finding the lowest prices for their prescriptions at surrounding pharmacies.
The free "Grocery Guidance" feature is an enhancement to WellRx's website providing the healthiest food choices for consumers using Artificial Intelligence. It's designed to specifically help patients with chronic conditions like diabetes or heart issues, but also includes a categorization to help pregnant women who are adopting a healthier lifestyle during their maternal state.
Dr. Marcus Sredzinski, Chief Operating Officer for ScriptSave WellRx, says the guidelines in the updated solution are backed by nutritional data science and built by a team of dietitians and nutritional scientists.
"Most people are not aware of the numerous potential drug interactions and side effects," said Sredzinski. "The ScriptSave WellRx interactions tool better informs consumers of any potential risks in their lifestyle, prescribed and over the counter medication therapy. Our goal with this tool is to keep people informed so that they can have more meaningful conversations with their healthcare providers."
New Drug Interaction Tool Added to Website
WellRx has brought a new "Drug Interaction" tool to their website that will monitor how medications may interact with drug and lifestyle choices.
Once users create an account on WellRx.com, they will get access to this feature, allowing them to see all of the known drug and lifestyle interactions. For example, they will be able to directly see how their medication may interfere or have side effects with marijuana, tobacco and alcohol.
"Many consumers aren't aware of drug-drug interactions and the more drugs you take, the greater the risk that they will interact with each other," said Sredzinski. "Sometimes, interactions can be minimized by adjusting your medication schedule. Always, talk to your doctor and pharmacist about how and when each drug should be taken."
For example, Sredzinski says people who take Lipitor or Zocor with grapefruit juice may experience muscle pain and other side effects, while alcohol can be deadly when combined with sleeping pills. And since supplements are not regulated by the FDA, he says they don't always have drug interactions listed on the label.
WellRx has also enhanced the drug search function on their website, helping consumers find the lowest price for their prescriptions and pharmacists that best fit their needs. For example, the updated search tool has a more refined filtering option that allows consumers to search for pharmacies open 24 hours a day or that are multilingual.
"The interactive mapping in the drug search function is one of our newest advancements that make it easier than ever to save on prescriptions," said Sredzinski. "Patients no longer have to manually search for each pharmacy location themselves. With this latest feature on the WellRx website, patients will have access to a map of all the nearest pharmacies, even showing them how many miles they are from the pharmacy."
The enhanced pharmacy locator also has an interactive map of the United States, giving consumers a quick look at the closest pharmacies to them.
ABOUT WELLRX
WellRx provides a fast, easy, free way for patients and physicians to get a second opinion on what an out-of-pocket cost might be. Patients can price-check all their family's medications at most pharmacies in any zip code with just one click. At its core, WellRx negotiates drug prices in bulk with pharmacies across the nation, giving it access to pricing information for most prescription drugs being sold at independent and chain pharmacies. It makes these pricing data available at no cost via the free WellRx website and mobile app.