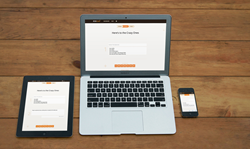 Slidebean is like Instagram for presentations
New York, NY (PRWEB) June 04, 2014
Slidebean, a DreamIt Ventures startup, launched their presentation software today. The team, founded by a TEDx speaker and two UI/UX experts, has created a tool that allows anyone to make a presentation in minutes, regardless of their technical expertise or design skills. After months of extensive usability tests with over 7,000 beta-users, Slidebean is live on the web as of today.
Slidebean CEO Jose Cayasso states, "Making powerful presentations takes hours and is a pain for most users. All the Power Point alternatives actually offer the same approach, so users can't focus on their content because they are distracted figuring out the look."
"This methodology is over two decades old," he adds.
The tool reinvents the slide design process by separating content from format: the users simply enter their data and Slidebean automatically optimizes it and formats it into a stunning presentation; this allows users to get beautiful results in minutes instead of hours.
"All the slide design is handled seamlessly by our website, which works on both desktop and mobile devices. It's as simple as applying an Instagram filter," added CTO Jose Bolaños. "A cloud-based app also lets users edit and present wherever they are."
Slidebean is a free service, but offers an account upgrade for $4.99/mo which enables users to brand their slides and download their presentations as PDF, among other features.
For more information regarding Slidebean and access to premium account functionality please contact Caya at pr(at)slidebean(dot)com or @cayajose on Twitter. A Media Kit can be found here: http://goo.gl/rvpblQ.