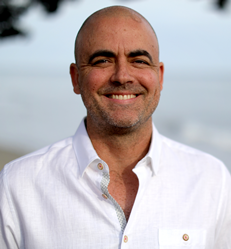 I tapped over 100 different scientific sources to help people who practice yoga and Pilates avoid injuries
SANTA BARBARA, Calif. (PRWEB) January 19, 2021
An eye-opening new health/fitness book titled 'Preserve Your Curves' applies science to ancient yoga postures and Pilates' more modern physical fitness practice. Both enjoy millions of followers worldwide, yet many people suffer avoidable injuries because certain activities may harm the spine. The author, Dr. Kevin Khalili, DC, CCEP, spent years researching the cause of injury to create an easy-to-apply book of modified postures and practices that help everyone maximize their health.
"Preserve Your Curves is a great resource; with the growing popularity of both yoga and Pilates, I started seeing many injuries, not just to students, but also their teachers," says Khalili," a Santa Barbara-based chiropractor and founder of the Laser Rehab Institute. "I wanted to learn more about why this was occurring and discovered that certain movements scientifically proven as harmful to the spine were being replicated in both disciplines. "Preserve Your Curves" reveals my findings and gives modified postures/exercises to preserve the spine." Once Dr. Khalili discovered how people were hurting themselves, he decided to test alternatives. It took Dr. Khalili over fourteen years to write the book, featuring exercises successfully tested on himself and his patients. The book features over 160 pictures detailing the execution of each modified practice.
"The book is not to knock yoga or Pilates, far from it, I love both," says Dr. Khalili. "We know a lot more about how the body works than we did a hundred years or even decades ago. The scientific research regarding proper bio-mechanical movement has now been thoroughly established. When we stray from this, developing an injury or painful condition is not an "if" but a "when." I tapped over 100 different scientific sources to help people who practice yoga and Pilates avoid injuries. Both practices rely on teachers. Teachers have the best of intentions, and students always trust their teachers. Unfortunately, without an understanding of the knowledge presented in my book, developing an injury can occur."
For people who are already experiencing pain or injury, Dr. Khalili has some advice. "I recommend they try to understand the source and causation of their pain," he says. "My book provides some helpful insight along with seeking an evaluation and treatment with a Certified Chiropractic Biophysics doctor at http://www.idealspine.com. For immediate relief, I would put an icepack wrapped in a cotton t-shirt and apply it to the painful area for 20 minutes and repeat every 2 hours up to 4 times per day. If urgent care is needed due to severe and debilitating pain, then call 911."
About the Book:
For a copy of Preserve Your Curves, go to DrKhalili.com
Number of pages: 130
Number of illustrations and/or pictures: 163
ISBN: 978-0-578-82516-8
All benefits and proceeds from the sale of the book will go to:
https://www.africayogaproject.org/
https://cbpnonprofit.com/
Ampsb.org
http://www.sbtennispatrons.com
About Dr. Khalili:
For more than 25 years, Dr. Khalili has been practicing preventive sports medicine and is the clinical director of the Laser Rehab Institute of Santa Barbara, California. He graduated from the Los Angeles College of Chiropractic in 1992 and became a Certified Fellow of Chiropractic Biophysics in 2002. After pursuing postgraduate studies at Life Chiropractic College West, in 2017, he became a Certified Chiropractic Extremity Practitioner (CCEP).
He is the founder of Dr. Khalili, LLC, a company dedicated to researching and developing plant-powered products and innovative home fitness solutions along with offering an online optimal health learning center. His primary intentions are to encourage people to strive purposely towards their goals, speak mindfully to themselves and others, see gratefully for what they got rather than what they're not, smile freely throughout life, sweat daily for at least 45 minutes, sleep deeply for 9 hours, and savor sustainably sourced organic foods that are at least 95% plant-based.