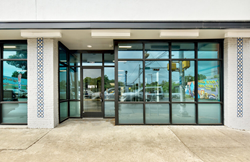 "We went to work on a plan to rescue the building, save every inch possible, create an East Austin Jewel and give it 50 more years." - DeLea Becker, owner, Beck-Reit Commercial Real Estate
AUSTIN, Texas (PRWEB) February 07, 2020
During a time when "tear-down, build new" seems to be a mantra for Austin development, a 110-year-old downtown building was given more than just a new lease on life. Passed down for generations, the family owners teamed with a commercial real estate specialist on a three-year renovation project to save "The Otto" and make it a proud showpiece for its community.
The commercial building was named after Otto Buaas, who bought it in 1928. By then, it was already nearly 20 years old, and it has remained in the Buaas family ever since.
In 2016, the Buaas reached out to commercial real estate specialist DeLea Becker to discuss future plans for the property. Everything hinged around a central question: What would happen to the Otto?
It was a familiar site in the downtown corridor, surviving as a piece of history from a time when Austin boasted a population of 29,000. Just three blocks away ran East Avenue – I-35 wouldn't be built in that location until 47 years later.
One big problem, according to Becker, was the state of the building. The two-story structure included retail and office space and two apartments, but more than a century of aging had left it in need of major structural and foundation repairs.
"There was termite damage, water damage. There were roughly 75 holes in the roof, so it leaked like a sieve when it rained," Becker said. "The whole structure was crumbling."
Several developers had approached Hamilton and Buaas, recognizing the prime location just three blocks east of I-35 in downtown. Becker knew, however, that if a developer were to buy the downtown property, it's likely that they would have completely torn down the aged Otto to build something new.
The family and Becker wanted to save the building. "We went to work on a plan to rescue the building, save every inch possible, create an East Austin Jewel and give it 50 more years."
A roadmap for renovating the Otto
Saving the mixed-use building would not be easy. Becker and the owners collaborated on a plan – but it was a complicated one. The building had seen various additions and changes over the years, and some aspects weren't up to today's building standards. For example, "there had been years of people running gas lines next to electric lines," Becker said.
But first, Becker had to form her team. Her construction firm of 20 years, Beck-Reit & Sons Construction, would be the general contractor. Beck-Reit Commercial Real Estate, founded in 2014, would be the broker. And Beck-Reit Asset Management was formed in 2017 just to handle the leasing for this property (and other family assets).
Key figures in the project included architect Denise Shaw of Plumb Architecture, civil engineer Jeff Shindler of Texas Design Interest, structural engineer Samuel Young of MJ Structures, MEP engineers Steven Butler and Melissa Coad of DBR Engineering Consultants, and permit expediter Marla Busa of Delta Permitting.
There were some key decisions to be made about the structure itself. For one thing, Becker and the Buaas decided to keep the upstairs apartments.
"I thought it was much cooler to keep the apartments because you rarely see an old, old mixed-use building," Becker said. "Since 1945, this has been office, retail, and two apartments. So we kept that intact, and redesigned around that."
They also wondered if a back unit that fronted Waller St. would need to come of the building – but they decided to save it, as well. "It is one of the coolest rooms in the whole project," Becker said.
Negotiating with the city
Another issue that had to be dealt with was encroachment, and it would prove to be a major hurdle for Becker and her team. The Otto's west wall is two feet out into the city right of way.
"The only way to keep that wall that's been there for 110 years was to do an encroachment agreement with the City of Austin," Becker said. In the end, the solution was to pour a new sidewalk on the edge of the building – and it had to wrap around a telephone pole.
"Eleven departments had to sign off on sidewalk for ADA compliance," Becker said. "That's eleven departments we had to meet with, explain why this was necessary, and why they needed to sign off. Then we had to go before the Austin Planning Commission for approval, followed by gaining approval from the Austin City Council, as well. It was an 18 month process."
Outdoorsy: A new tenant moves in
The project's success was evident when the building was fully leased before it reopened. "We were signing leases before we even completed construction," Becker said. "One hundred percent of the building is pre-leased by Outdoorsy." The world's largest on-demand marketplace for recreational vehicles, Austin-based Outdoorsy leased the Otto for their headquarters.
"We finished the project under budget, and leased it ahead of time," Becker said. She added that the Otto is a proud accomplishment, and a success story in saving a piece of old Austin when most are opting to tear down old properties. "The owners are thrilled, and we look forward to seeing the building stay in the family for generations to come."
To learn more about the Otto project, visit http://www.beckreitcre.com/the-otto-1201-cesar-chavez-austin.
About Beck-Reit Commercial Real Estate
With several decades of experience managing our own commercial real estate, Beck-Reit provides full service for clients in deploying, operating, maintaining, upgrading, and disposing of assets cost-effectively. Beck-Reit's expertise helps clients determine the best options for their properties with exceptional service, accountability, innovative solutions, and boots on the ground knowledge. To learn more, visit http://www.beckreitcre.com.