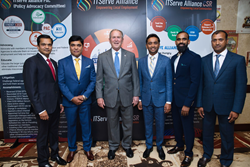 DALLAS (PRWEB) October 20, 2021
President George W. Bush spoke at the ITServe Synergy Conference 2021 held in Dallas, TX as a Special Guest on September 30, 2021. President Bush was welcomed by over 1,200 technology entrepreneurs and CEOs of their member companies on their first day of the 2-day Annual Conference. President Bush met ITServe Alliance leadership and was briefed about ITServe's initiatives in creating and promoting IT job growth in the US as well as ITServe's CSR activities in communities across the country. President Bush specifically appreciated ITServe's help extended to first responders across the US and to various food banks during the pandemic.
During an-hour long discussion moderated by our fellow member Kishore Khandavalli, President Bush spoke about the State of the Country, skilled Immigration, STEM Program and leadership traits. President Bush also spoke at length about his faith, family, work-life balance, and personal fitness. His sense of humor, presence of mind and extraordinary knowledge of world view captivated the audience.
President Bush applauded ITServe's core activity of job creation and retention in the US and its positive effects on the communities across the nation. President Bush encouraged ITServe to continue the efforts of creating technology jobs through the STEM programs and help contribute to improving the standards of living across communities. ITServe National President Raghu Chittimalla said, "Our leadership and members were elated to hear from President George Bush at the conference and learn from the one of the best leaders. The insights and wisdom he shared with our members was exhilarating".
About ITServe Alliance
ITServe Alliance is the largest association of IT Solutions & Services organizations in the US, representing over 1,400 member companies. The alliance is the voice of all prestigious IT companies functioning with similar interests across the United States. Through the years, ITServe has evolved as a capable and respected platform to collaborate and initiate measures in the direction of protecting common interests and ensuring the collective success of its member companies. Since its inception in 2010, ITServe Alliance has served to strengthen the knowledge, skills, and value of its members across the nation through its 17 country-wide Regional Chapters.
For further information, contact PRMedia@itserve.org
To register with ITServe, click on the link below https://itserve.org/register
Follow us on LinkedIn https://www.linkedin.com/company/itserve-alliance/
Follow us on Facebook https://www.facebook.com/ITServeAlliance/