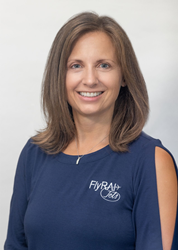 "I am excited to share my knowledge with the new generation of aviationindustry professionals and help them get inspired to turn their passion for aviation into a long-lasting career,"
KALAMAZOO, Mich. (PRWEB) January 11, 2023
Becky Riley-Bakeman, president of RAI Jets, LLC, a Kalamazoo-based part 135 operator and aircraft management company, will appear as an educational speaker on two panels at the upcoming National Business Aviation Association (NBAA) Schedulers and Dispatchers Conference (SDC), January 22-26 in Nashville.
"Business aviation is a huge part of my daily life and passion. So when I was invited to participate at the 2023 NBAA Schedulers and Dispatchers Conference, I was happy to accept," said Bakeman.
Every year, the SDC gathers thousands of industry experts from around the country to explore various industry topics and learn about the latest cutting-edge business aviation technologies. Bakeman will contribute her expertise to a presentation on "Part 135." She will also participate on a panel to discuss how to turn your paycheck into a passion with a career in business aviation.
Bakeman is a member of the Riley family, who have deep roots in Southwest Michigan aviation since the late 1980s. Bakeman helped successfully transform the business from a humble flight school known as Riley Aviation into a thriving, rapidly-growing aircraft maintenance, aircraft management, and private charter flight service renamed RAI Jets in 2009.
"I am excited to share my knowledge with the new generation of aviation industry professionals and help them get inspired to turn their passion for aviation into a long-lasting career," said Bakeman. "I am also looking forward to discussing the differences between Part 91 and Part 135 regulations and how they affect scheduler and dispatcher duties."
The panel discussion entitled "My Next 30 Years: Turn Your Paycheck into Passion" will take place at SDC on Tuesday, January 24, at 11:30 am. The panel and presentation entitled "Part 135" will take place Wednesday, January 25, at 3:30 pm. For more information about the 2023 NBAA SDC, visit the NBAA website.
About RAI Jets
RAI Jets LLC is a Kalamazoo, MI-based aviation specialist featuring mid-sized, super-midsized, and heavy jet management, jet charter, and maintenance services. The family-owned company officially opened in 2009, preceded by more than two decades of generational experience in aviation. For individuals and businesses, the Part 135 operator offers customized jet charter for business or leisure, as well as turnkey management and aircraft maintenance for jet owners. RAI Jets operates its own fleet of aircraft for charter and offers jet owners the possibility of offsetting operating costs by adding their aircraft to RAI Jet's FAA-approved Part 135 Air Carrier Certificate. RAI Jets also offers aircraft acquisition service and hangar space. For more information, visit FlyRAI.com or call (800) 247-2834.