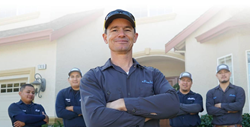 SAN JOSE, Calif. (PRWEB) September 14, 2020
Zachary Smith, President of Smith's Pest Management in San Jose, California, has been accepted into the Forbes Business Council, the foremost growth and networking organization for successful business owners and leaders worldwide.
Zachary was vetted and selected by a review committee based on the depth and diversity of his experience. Criteria for acceptance include a track record of successfully impacting business growth metrics, as well as personal and professional achievements and honors.
"We are honored to welcome Zachary into the community," said Scott Gerber, founder of Forbes Councils, the collective that includes Forbes Business Council. "Our mission with Forbes Councils is to bring together proven leaders from every industry, creating a curated, social capital-driven network that helps every member grow professionally and make an even greater impact on the business world."
As an accepted member of the Council, Zachary has access to a variety of exclusive opportunities designed to help him reach peak professional influence. He will connect and collaborate with other respected local leaders in a private forum and at members-only events. Zachary will also be invited to work with a professional editorial team to share his expert insights in original business articles on Forbes.com, and to contribute to published Q&A panels alongside other experts.
Zachary's vision for Smith's Pest Management is to ultimately franchise and expand to multiple states. Becoming a member of the Council will provide his rapidly growing company with numerous valuable resources, including access to a vetted network of knowledgeable service industry partners.
"Joining the Council gives me the opportunity to share my expertise and learn from others who help make our industry successful. I'm proud of developing my company's leadership role, and I look forward to contributing to the value of the Council's work on multiple levels."
ABOUT SMITH'S PEST MANAGEMENT
For over 10 years, Smith's Pest Management has served as a leading pest management company in the San Francisco Bay Area. Smith's specializes in humane burrowing pest removal, including gophers, moles and ground squirrels. The company also offers a full line of insect pest control solutions. Smith's comprehensive services are available for residential and commercial properties, and our quotes are always free. Zachary Smith can be reached by calling (408) 871-6988 or via email at zsmith@gopher-trapping.com.
Source: Smith's Pest Management