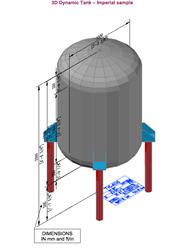 This is a library that features simple drag & drop functionality. Once the tank or vessel is inserted - it's just a matter of stretching them as needed.
Bend OR (PRWEB) October 31, 2014
SimpleCAD announced today a new package to create 3D tanks and pressure vessels inside AutoCAD®. The new block library will work inside AutoCAD® 2010 through AutoCAD® 2015 (AutoCAD LT® versions are also supported).
The 3D symbol collection takes advantage of dynamic blocks. Using AutoCAD® built-in grips, the tanks can be stretched to a desired width and height.
Within the library, there are 8 sets of dynamic blocks including storage tanks, pressure vessels and silos. The libraries are also available in both Metric and Imperial units.
The dynamic block library also offers bill of materials (BOM) functionality, so that users can create a table in order to report on how many tanks are within a drawing. Dimensional data is also included in order to create detailed estimates within the reporting schedule.
Owner Erik Zetterberg explains, "This is a library that features simple drag & drop functionality. Once inserted, it's just a matter of stretching the vessels as needed. The blocks are also very intelligent and can generate a schedule describing the capacity and dimensions in great detail. The schedules can also be extracted directly within AutoCAD or exported to Excel, if needed."
3D Tanks and Vessels included are:

Horizontal-Flat
Head Horizontal-Hemispherical Caps
Horizontal Spherical Caps
Horizontal Tori-Spherical Caps
Vertical-API
Vertical-Cone Bottom
Vertical-Spherical
Vertical Tori-Spherical Caps
Erik Z. adds, "As a part of a promotional release, we are including 2 additional tanks at no extra cost. These will include the Vertical Flat Top and Vertical Tori-Spherical Top tank types."
The 3D Dynamic Tanks are compatible with AutoCAD 2010 through 2015 (plus AutoCAD LT is also supported). Both Metric and English versions are also available.
The tanks are well suited for these type of industries:
Petrochemical
Chemical
Pharmaceutical
Cosmetic
Aggro-Food
Logistics/Transports
Water Treatment Plants
Industrial Boiler/Heat Exchanger Manufacturing
SimpleCAD can be reached by calling 877-933-3929 or by emailing them at mail (AT) simplecad (DOT) com. Pricing, videos and additional information is also available at http://www.simplecad.com