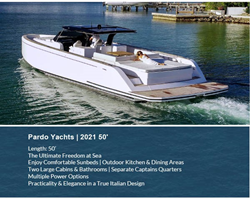 NORTH MIAMI BEACH, Fla. (PRWEB) September 16, 2020
Prestige Imports is an exotic automobile dealership located in North Miami Beach, Florida. The dealership specializes in new vehicles from some of the most iconic exotic brands on the market, including Lamborghini, Lotus, Pagani and Karma Automotive. In addition to the dealership's new inventory, it offers an extensive selection of pre-owned models from a multitude of exotic brands beyond the ones it typically offers new.
But the dealership has branched beyond the road with Prestige Marine, the newest member of the Prestige Imports family, which now provides exotic brands for land, air and sea. Prestige Marine specializes in high-end seafaring vessels such as new generation amphibious yachts and tenders, luxury day boats, limited edition performance yachts, water toys and much more.
Prestige Marine has established partnerships with several exotic marine brands in a similar fashion to Prestige Imports. The company is the official partner of Tecnomar for Lamborghini 63 Yacht, Iguana Yachts, Pardo Yachts, VanDutch, Midnight Express, SEABOB and Radinn Jetboards.
The new seaworthy wing of the Prestige Imports family provides the same philosophy as the rest of the group, which is to put the client first. Prestige Marine clients can expect the same great customer service the rest of the Prestige Imports family is known for.
Residents of the area that might be interested in what Prestige Marine has to offer are encouraged to reach out to Director of Sales, Kevin Fishman, at kfishman@prestigemarine.co or 305-947-1000, ext. 2235 for further information. Prestige Marine is located at 15050 Biscayne Blvd. in North Miami Beach.