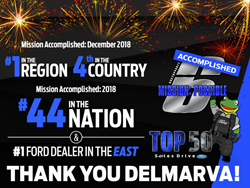 Thank you to all of our valued customer who made the possible happen in a town of 709 people! - Dave Wilson Sr.
PRESTON, Md. (PRWEB) January 06, 2019
Preston Ford, your Delaware and Maryland Ford destination, is thrilled to say Mission Accomplished, Delmarva! The 2018 Top 50 Sales Drive Mission: Possible 6 was a huge success! Preston Ford began this year-end sales event to pass on unbeatable savings to its loyal customers and to place Preston, Maryland (population 709) on the map. Our goal for 2018 was to close out the year within the Top 50, but by the end of the 2018 Mission: Possible 6 Sales Event, we were 44th in the nation! This is our highest finish yet and far better than last year's finish at 52nd. We also finished as the top Ford dealer in the Washington region AND on the East Coast in 2018. Preston Ford, your Annapolis Ford destination, was the 4th top-selling Ford dealer in the nation for the month of December! These statistics are based on volume sales.
With your help, Preston Ford sold 2,601 trucks, cars, SUV models and commercial vehicles in 2018. This is quite the improvement over last year's total of 2,520. This included selling cars to 39 different states; MD, VA, NY, DE, NJ, TN, PA, NC, GA, FL, WV, MA, AZ, IL, NH, DC, CO, CA, TX, SC, MI, MN, OK, OH, KY, RI, KS, MO, CT, IN, WI, NM, OR, IA, NV, VT, ND, and NE. Low prices, a great buying experience, and a large selection of vehicles allow Preston Ford to compete nationally, but it is the success of our Mission: Possible Sales Event that pushes us deep into the Top 50. December of 2018 was one of the best months we've had in Preston Ford history. We saw a greater demand this year for Ford's F-150 and Super Duty (F-250/F-350) trucks, with strong high-end demand as customers continued to opt for Ford's technology and equipment packages. We also had strong demands for the family-friendly Ford Explorer and the impressive Ford Expedition.
Preston Ford, your Easton Ford destination, is proud to be a part of the Delmarva community and even prouder to be able to offer its community some of the most competitive price points and one of the best buying experience found in the nation. We are also proud of our dedicated sales team. Our team put in a lot of man hours and hard work, so that each of our customers could drive off our sales lot in a new or used vehicle and at an affordable price. We want to thank our customers, new and old, for continuing to support us in always reaching new heights. That is why we are starting this year full steam ahead, so that we can carry on our tradition of outstanding customer service. Our goal is to always make sure that everyone feels comfortable and confident while they visit our showroom and browse through our extensive inventory of Ford cars, trucks or SUV models. We are ready to make 2019 the best year it can be and everyone is invited along for the ride. So come by Preston Ford, your local Ford destination, a short drive from Salisbury, Maryland and Seaford, Delaware to talk with our sales team and let's work together to see how we can get you behind the wheel of the new Ford you have always wanted.
View full video on Preston results here.