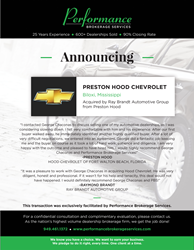 If it wasn't for his help and tenacity, this deal would not have happened.
IRVINE, Calif. (PRWEB) November 21, 2018
Performance Brokerage Services, an automotive, commercial truck and motorcycle dealership broker is pleased to announce the sale of Preston Hood Chevrolet in Biloxi, Mississippi from Preston Hood to Ray Brandt Automotive Group.
At the start of the Great Depression, Arthur Hood believed the automobile industry showed promise and opened a Chevrolet dealership in 1929 in Amite, Louisiana to provide for his family and two sons, Arthur Hood, Jr. and Thomas Hood. After Arthur's two sons served in World War II, they joined him in the automotive business and together purchased a dealership in Fort Walton Beach, Florida in 1962. Seven years later in 1969, Arthur Jr.'s son, Preston Hood, purchased the dealership from his father and grandfather and renamed the dealership to Preston Hood Chevrolet.
In 2003, Preston expanded the presence of the Hood family by opening Preston Hood Chevrolet in Biloxi, Mississippi. After 15 years of ownership, Preston hired George C. Chaconas of Performance Brokerage Services to facilitate the sale of his dealership in Biloxi. As an aging dealer, Preston felt it was time to divest of the dealership and simplify life. Preston kept his ownership of Preston Hood Chevrolet in Fort Walton Beach where he resides and continues to operate the family business. Following the sale, Preston Hood commented, "After our first buyer walked away, George immediately identified another highly qualified buyer. After a lot of very difficult negotiations, we entered into an agreement. George did a fantastic job keeping me and the buyer on course as it took a lot of hard work, patience and diligence. I am very happy with the outcome and pleased to have hired him."
As highly experienced and well-regarded auto dealer with over 10 dealerships throughout Mississippi and Louisiana, Ray Brandt of Ray Brandt Automotive Group brings his impeccable reputation and customer-focused philosophy to his newest acquisition of Preston Hood Chevrolet of Biloxi. This acquisition was a great strategic fit for Ray to expand and diversify his portfolio. This acquisition marks the only Chevrolet dealership in the Ray Brandt Automotive Group and the only domestic franchised dealership owned by Ray Brandt in Mississippi. Ray shared the following about his experience, "It was a pleasure to work with George Chaconas of Performance Brokerage Services in acquiring Preston Hood Chevrolet. George was very diligent, honest and professional. If it wasn't for his help and tenacity, this deal would not have happened."
Ray started his career in the automotive industry in 1983 with only a Nissan dealership. Ray has since served on the Nissan Regional and National Boards for over 20 years, twice as the National Chairman, and on Toyota and Hyundai Regional Boards. Ray was a member of the Louisiana Automobile Dealers Association Board and is currently Chairman of the Louisiana Motor Vehicle Commission.
The dealership will remain at its current location at 11325 Cedar Lake Road in Biloxi, Mississippi 39532.
George C. Chaconas, the exclusive agent for this transaction and the Southeast Partner for Performance Brokerage Services commented, "It was a tremendous pleasure working with both gentlemen in this transaction. The Hood family has been in the automotive business for 4 generations, and it brings me great satisfaction to know that Ray Brandt will be the one to carry on the legacy of the Hood family."
About Performance Brokerage Services
Performance Brokerage Services, an auto dealership broker, specializes in professional intermediary services to buyers and sellers of automotive, commercial truck, Harley-Davidson and Powersports dealerships.
The company offers a different approach to the automotive, commercial truck, Harley-Davidson and Powersports industries by providing complimentary dealership assessments, no upfront fees, no reimbursement of costs and is paid a success fee only. Performance Brokerage Services gets paid only after the client gets paid.
With over 25 years of experience, the company utilizes an extensive network of industry related accountants, attorneys, hundreds of registered buyers and enjoys longstanding relationships with most of the auto manufacturers and the Harley-Davidson Motor Company. The intermediaries at Performance Brokerage Services have been involved in well over 600 transactions. Pledging loyal and unwavering representation, confidentiality is vigilantly protected during the selling process and after the transaction closes.
With corporate offices in Irvine, California, six regional offices in Utah, Florida, Texas, New Jersey, Alberta and Ontario, a dedicated Harley-Davidson and Powersports Division, and a dedicated Commercial Truck Division, Performance Brokerage Services provides its clients national exposure with local representation. For more information about the services offered by Performance Brokerage Services, visit https://performancebrokerageservices.com.