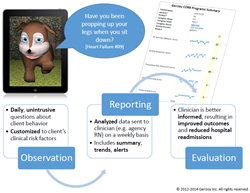 The GeriJoy CORE Program is an exciting way for providers to keep their patients from being readmitted to hospitals -- it's not only effective for clinicians, but also engaging and fun for older adults and families.
Cambridge, MA (PRWEB) February 27, 2014
As part of a new program option announced today by GeriJoy, the company will leverage its technology-enabled 24/7 companionship and oversight service to help keep older adults out of hospitals, saving hospitals money and earning post-discharge care providers like home care agencies more referrals.
Under the GeriJoy CORE Program (CORE being an acronym for Clinical Observation, Reporting, and Evaluation), GeriJoy's virtual care companions ask clients specialized questions about their daily behavior, tailored to their clinical risk factors. These observations are analyzed by GeriJoy and reported to clinicians such as a registered nurses or care managers, who use the insight from real-time alerts as well as weekly summaries and trends to better evaluate and mitigate client risk factors for hospital readmission.
The GeriJoy CORE Program focuses on three primary risk factors for preventable hospital readmissions, which hospitals are penalized for under the Affordable Care Act: heart failure, acute myocardial infarction (heart attack), and pneumonia. For example, propping up the legs of a congestive heart failure patient when sitting is an effective way to reduce risk for further complications, and one of the questions asked by the GeriJoy CORE Program of heart failure patients is, "Have you been propping up your legs when you sit down?" All observations are based on the latest peer-reviewed research and standardized survey instruments.
Additionally, the program observes client risk factors and status pertaining to two of the most common chronic conditions among seniors: COPD (chronic obstructive pulmonary disorder) and depression. GeriJoy suggested that Alzheimer's disease and other dementias may soon be included in the GeriJoy CORE Program, through the regular administration of enjoyable cognitive and memory tests.
The key to the success of the GeriJoy CORE Program is the GeriJoy Companion, which takes the form of a lovable dog or cat in a specially configured tablet device, available to an elderly person 24/7. Through the support of GeriJoy's remote care staff, the pet talks with older adults intelligently and compassionately about topics including family photos, news, and daily routines to provide companionship, stimulation, and family connection with zero technical abilities required.
Under the CORE Program, the GeriJoy Companion asks the client questions each day, throughout the day, customized to the client's clinical risk factors. Clients do not notice any intrusiveness because only a couple of questions are asked at a time, in the comfort of the client's own home. Moreover, the questions are asked by an unintimidating, adorable virtual companion, blended with regular conversation.
Victor Wang, CEO of GeriJoy, commented that "The GeriJoy CORE Program is an exciting way for providers to keep their patients from being readmitted to hospitals: it's not only effective for clinicians, but also engaging and fun for older adults and families."
PricewaterhouseCoopers reports that preventable hospital readmissions cost the U.S. health care system an estimated $25 billion annually. In order to cut down on the number of preventable readmissions, Obamacare's Medicare Hospital Readmissions Reduction Program penalizes hospitals for such readmissions. According to calculations released in 2013 for the first year of the program, the US government charged a total of 2,213 hospitals about $280 million in readmission penalties. In addition to the human cost of a preventable readmission, these new financial penalties mean that hospitals are now more motivated than ever to refer patients post-discharge to care providers that have the best means to prevent readmissions.
For more information, including GeriJoy CORE Program Specifications, example CORE data/reports, and how to get started as a provider, please contact info(at)gerijoy(dot)com. Parties interested in learning more about the GeriJoy Companion may also attend GeriJoy's workshop on March 13 at the Aging in America conference, or register for a free, interactive webinar and demo hosted by GeriJoy: http://gerijoy.com/virtual-care-companions-a-formal-caregivers-intro-to-gerijoy.html
About GeriJoy
GeriJoy (http://gerijoy.com) was founded by MIT researchers to improve quality of life for seniors and caregivers through friendly technology. The GeriJoy Companion, their flagship service, is a virtual pet and companion for the elderly that is available 24/7 and is supported by GeriJoy's worldwide team of remote care staff. Serving as a helpful family member, the GeriJoy Companion not only reduces loneliness and improves mental health for older adults but also provides peace of mind and reduces stress for caregivers. GeriJoy has been recognized by organizations like AARP, TEDMED, and the US Senate as a leading innovator in senior care, and has documented benefits in care situations ranging from family caregiving to private-duty home care, assisted living, and skilled nursing dementia care.