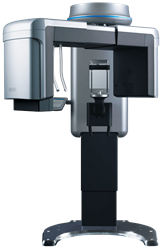 This new model is the first 3D CBCT imaging system with an integrated cephalometric X-ray.
SAN JOSE, Calif. (PRWEB) May 12, 2021
The PreXion Corporation, an international CBCT imaging systems manufacturer, has announced the release of its latest model: the PreXion 3D Explorer PRO. In addition to offering pristine 3D imaging clarity, this iteration of the machine features an integrated cephalometric X-ray arm – the first of its kind. This new feature will allow dental and specialty practices to save up to two feet of office space, while equipping them to capture cephalometric X-rays with conversion from CT or panoramic to ceph X-ray mode in only 30 seconds.
In addition to the built-in cephalometric arm, the machine boasts several other unique technology and design features that combine to make it a truly unique all-in-one 3D CBCT scanner. With CBCT imaging systems, the size of the focal spot carries a direct correlation to the degradation of image quality, meaning that larger sizes result in poorer image quality. The Explorer 3D PRO offers a focal spot size of 0.3x0.3mm – the smallest in the industry. The latest machine also features several fields of view (FOV) size options to customize results for varying cases and specialties. Its FOV sizes range from 5x5cm to 15x16cm, fostering immense flexibility and versatility for the clinician. The 15x16 FOV is enabled by the industry's largest flat panel detector (FPD) that can scan in one pass, thereby decreasing distortion and scatter for better image quality as well as reducing patient radiation exposure. Its HD and endodontic CT modes feature uncommonly low radiation dosage and scan times of 20 seconds or less, both improving image quality and patient comfort.
The PreXion 3D Explorer PRO is available through select U.S.-based distributors as of May 1, 2021.
About PreXion: Since its inception in Japan in 2004, PreXion has been committed to revolutionizing dental and medical imaging. President & CEO Yasutoyo Imada has over 30 years of experience in both imaging and dental equipment manufacturing. In 2007, the company presented the PreXion 3D Elite, which offered the world's fastest data reconstitution time. After that, it began its expansion into the United States market with the distribution of its U.S.-exclusive PreXion 3D Excelsior model. PreXion's distribution has been rapidly expanding, serving thousands of customers across seven countries and in all 50 states. Through diligent manufacturing processes and tireless research and development, the company has remained on the cutting edge of CBCT technology, having increased market share 400% from 2016 to 2020. The company offers unrivaled customer support and dedication to continuing education opportunities, with partnerships among fellow industry leaders such as Catapult Education and 3D Diagnostics (3DDX). To learn more, call 855-PREXION or visit https://www.prexion.com.