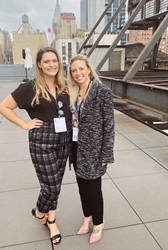 PHILADELPHIA (PRWEB) October 31, 2019
On Wednesday, October 16, 2019, PRG Real Estate's corporate marketing team attended the launch of Canva for Enterprise at the Hudson Mercantile Building in New York City. The occasion solidified a promising partnership between PRG Real Estate and Canva, an Australian-based graphic-design software company.
Since joining PRG Real Estate in late 2018, Marketing Manager Sarah Wieman's focus has been on finding a marketing solution that streamlines the design process, nurtures the "PRG Way", cultivates social media growth, and encourages cohesiveness across 40 (and growing) distinct community sub-brands. PRG needed to find a solution to not only alleviate the greatest frustrations of the web to print marketing materials but also to strengthen every aspect of the PRG brand. Now, on one platform with the touch of a button, any print or web collateral can easily be transformed into a piece of a brand's story.
PRG Real Estate was offered the exclusive opportunity to be one of the first official Canva for Enterprise partners. "This is a monumental opportunity for a significant revamp in how PRG's Creative and Marketing teams are able to work and problem-solve. It fits well with our desire to continue to foster a forward-thinking, cutting-edge organization. Putting the power of design directly into our hands allows us to create a unified and thoughtful brand image that our employees and residents can both stand behind." – Sarah Wieman, Marketing Manager.
The new software will coincide directly with PRG's ongoing marketing initiative to create an in-house branding agency to strengthen each property's brand identity. Over the course of 2019, the PRG marketing team has spearheaded new marketing techniques in an effort to make PRG more competitive in the digital marketing landscape within the multi-family real estate industry.
One major launch underway is the creation of a new sub-brand named Elevated Properties. Elevated Properties is comprised of a group of high-end apartment communities in the Richmond, Virginia market. The Elevated Properties branding project includes new branding techniques to create a distinctive, luxury brand while keeping the properties affiliated with the overall PRG brand. Efforts include the creation of a 3D floorplan picker to allow prospects to better see the location of the apartment for which they are applying, designing a suite of new and improved websites, and even commissioning new photography and drone footage.
Through all of these exciting initiatives, it's clear that for PRG, 2020 will truly be the year of the brand.
PRG Real Estate owns and manages over 10,000 apartment homes throughout the United States. With over 30 years of successfully transforming communities, its 300 associates remain dedicated to providing residents with a great place to call home. For more information on PRG Real Estate, please visit http://www.prgrealestate.com