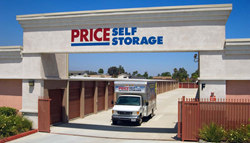 Our new website showcases all the amazing features and options anyone can have when it comes to storage and taking care of the things they love
SAN DIEGO (PRWEB) August 05, 2019
Price Self Storage, one of the premier businesses throughout California, has debuted their new website on June 20, 2019. The new website allows customers to easily search, select and reserve storage at any of Price Self Storage's 13 locations. In addition, current customers have access to an updated modern payment portal to pay their bills and set up auto pay online. With an updated design, easy ability to search for a convenient location, full gallery of pictures, and information to help you find the right size storage space for your needs, Price Self Storage's website offers the same convenience to make a reservation that each one of their facilities offers in store.
Features of the new website include online bill pay, a complete listing of individual locations, online reservations made easy, and their Live Uncluttered® Blog, complete with information about storage, lifestyle activities/information and moving preparation advice. Customers will be able to compare unit sizes and storage options quickly, so they can easily create a reservation. They will also be able to learn about Price Self Storage's services, like concierge services, which allow customers to complete rentals over the phone, as well as their free truck and driver service, which help people transport their belongings from their place to ours.
"We all have busy lives that are constantly changing, so Price Self Storage wanted to make it easier for people to create a reservation in the most convenient way possible. Our new website showcases all the amazing features and options anyone can have when it comes to storage and taking care of the things they love," said Jessica Garcy, Web Project Manager. "Living an uncluttered life can be easy with our many storage-made-simple options."
Price Self Storage has provided affordable self storage options for Californians since 1998. Each of their facilities provide you with state-of-the-art-security for increased peace of mind, computerized gate access and security cameras.
Additionally, Price Self Storage has been known in the region for the affordability of its diverse unit offerings. They offer a wide variety of sizes from small to large units and several sizes in between. Select facilities also feature RV, boat, vehicle, climate control, and wine storage options. No matter what your storage needs are, Price Self Storage has space to accommodate those needs.
To Learn More About Price Self Storage and the new website, please visit: https://www.priceselfstorage.com.
About Price Self Storage: Price Self Storage is a California-based self storage company with 13 locations. Price Self Storage has facilities in Azusa, two in Los Angeles: Culver City and West LA; Rancho Cucamonga: Haven Avenue, Arrow Route; five in San Diego: Murphy Canyon Rd, Morena Blvd, Pacific Beach, Santee and Solana Beach; San Juan Capistrano and Walnut Creek. Price Self Storage is committed to providing customers with professional, affordable self storage solutions for both personal and business needs. Price Self Storage offers a range of storage unit types and sizes including personal storage, business storage, RV and boat storage, vehicle storage, climate control storage, and wine storage to meet each customer's unique needs. We are open 7 days a week, except for New Year's Day, Easter, Thanksgiving, and Christmas. You may access our Price Self Storage facilities from 7:00 AM to 7:00 PM. If you need assistance from one of our self storage experts our office is open from 8:00 AM to 6:30 PM. Visit http://www.priceselfstorage.com for more.