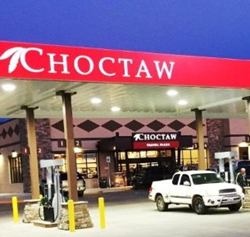 With PriceAdvantage, we are able to initiate real-time price changes directly from a cell phone - therefore adding increased margins.
COLORADO SPRINGS, Colo. (PRWEB) August 08, 2018
PriceAdvantage, a fuel price management and price execution software company and division of Skyline Products, announced today that the Choctaw Nation of Oklahoma has selected PriceAdvantage software to streamline their fuel pricing processes and remove the burden of fuel price changes from store personnel. Choctaw Nation of Oklahoma operates seventeen Choctaw Travel Plazas throughout Oklahoma and Texas - providing friendly service and a clean, safe store experience for people on the go.
"Depending on busy store personnel to gather competitor surveys and then post new prices can create pricing delays and inefficiencies – which ultimately can impact your margins and volumes," shared Chip Stadjuhar, President and CEO of Skyline Products. "Choctaw Travel Plazas will now be able to accelerate and automate those processes – improving their ability to respond to market changes and allow their store personnel to focus on the customer experience."
Choctaw store clerks can now easily use their mobile device to upload competitor surveys to PriceAdvantage. Additionally, Choctaw fuel pricing analysts can now easily review those competitor prices and replacement costs against volume and margin goals to make rapid, informed price changes. They can then instantly push those new prices to the store POS, pumps and price signs with just one click.
"With PriceAdvantage, we are able to initiate real-time price changes directly from a cell phone - therefore adding increased margins," shared Chuck Tillman, Senior Director of Retail Operations for Choctaw Nation of Oklahoma.
Choctaw selected the PriceAdvantage SaaS solution to leverage the benefits of a cloud service model including the low upfront cost, ease of implementation, and the maintenance and infrastructure cost benefits. To learn how PriceAdvantage can help your fuel marketing team, Request a PriceAdvantage software demo.
About PriceAdvantage
PriceAdvantage creates Software to Fuel Your Pricing StrategyTM. Our easy-to-use, highly configurable, patented solution allows fuel marketers to execute their unique fuel pricing strategy faster and more accurately by reducing manual processes and human errors. PriceAdvantage enables customers to make rapid, informed fuel pricing decisions based on their unique business rules, then automatically post new prices to their POS systems, fuel pumps and price signs, and then receive price change confirmation – all in just minutes. PriceAdvantage is singularly focused on fuel pricing software and is a division of a privately held U.S. company, Skyline Products, which produces software solutions and thousands of American-made electronic price and transportation signs annually. Learn more at http://www.PriceAdvantage.com.