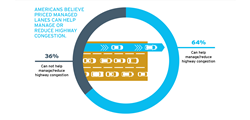 KANSAS CITY, Mo. (PRWEB) May 17, 2019
A new HNTB Corporation Viewpoint discusses priced managed lanes as a solution to urban congestion. The Viewpoint, "Priced managed lanes – a proven mobility strategy – are rapidly expanding across the US," is co-authored by Kevin Hoeflich, PE, HNTB Chairman Toll Services and senior vice president, and Tom Hutchinson, AICP, HNTB national tolls consultant and associate vice president.
The white paper discusses how public-sector owners are advancing plans for more of these projects around the country. There are dozens of successful PMLs currently operating and demonstrating value to their customers.
To see more HNTB thought leadership and media content, visit HNTB's Tolling media kit.
About HNTB
HNTB Corporation is an employee-owned infrastructure firm serving public and private owners and contractors. Celebrating 105 years of service in the United States, HNTB understands the life cycle of infrastructure and addresses clients' most complex technical, financial and operational challenges. Professionals nationwide deliver a full range of infrastructure-related services, including award-winning planning, design, and program and construction management. For more information, visit http://www.hntb.com, or follow HNTB on LinkedIn, Twitter, Facebook or Instagram.