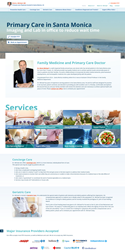 I am pleased to announce the launch of our new website. We have been working hard to create a useful, informative and easy to navigate site to help us continue to provide excellence in medical care," says Dr. Brent Michael
SANTA MONICA, Calif. (PRWEB) November 15, 2019
Primary care doctor, Dr. Brent Michael, serves families in the Santa Monica, California, area. Dr. Michael and his skilled team provide high-quality, patient-centric care for the entire family and he has recently launched a new comprehensive website. The new user-friendly website makes it easy to find information in one place and educates patients on the services offered at the practice. The site offers patients an optimized, easy-to-navigate experience, allowing patients to quickly request appointments, ask questions and connect to an informational blog.
"I am pleased to announce the launch of our new website. We have been working hard to create a useful, informative and easy to navigate site to help us continue to provide excellence in medical care," says Dr. Brent Michael
Dr. Brent Michael's office includes a full laboratory, radiology, echocardiography and bone densitometry all on-site. Having a "one-stop" medical office saves patients time and makes same-day patient evaluation, diagnosis and treatment possible. The comprehensive, wide range of services at Dr. Brent Michael's practice includes routine well-exams, sports physicals, acute care, cardiovascular care, urgent office visits, congestive heart failure, arrhythmia's, pneumonia and much more. He also provides geriatric health care services, in which he is specially trained. Patients from every age group always receive personalized attention and treatment in a professional and friendly environment. Dr. Michael and his staff strive to meet the needs of his patients and provide individualized concierge care, which is detailed on the website.
This cutting-edge practice makes doctor's visits convenient for patients. Dr. Michael's office also helps patients with insurance verification and once a patient has been diagnosed, if a referral to a specialist is needed, Dr. Michael works with the best specialists in Beverly Hills and Santa Monica to ensure continuity of care.
More about Dr. Brent Michael
Dr. Brent James Michael graduated from Southern Illinois University School of Medicine in 2000. He completed his internship at the University of Miami and residency at the University of California, Los Angeles. Dr. Michael began his private practice and affiliation with St. John's Hospital in Santa Monica in 2004. Dr. Michael is also a professor at UCLA in the Department of Family Medicine and has been affiliated with UCLA since 2004.
Dr. Michael has deep ties with the community serving on many local boards including the American Red Cross, UCLA, St. John of God as well as other important local committees. Dr. Michael has demonstrated a commitment to the local community and has also demonstrated extensive knowledge in internal medicine, family medicine and helping patients get the care and treatment needed to restore their health.
Dr. Michael believes strongly is giving back to the community and has been volunteering at the St. John of God Senior Community since 2014. In 2017 Dr. Michael was recognized for his outstanding work with seniors when he won the prestigious St. John of God Healing award.
Dr. Brent Michael's practice is located at 2001 Santa Monica Blvd, Suite 1260W, Santa Monica, California. Most major insurance plans are accepted at his office, including Medicare. For more information about the primary care practice of Dr. Brent Michael please visit http://www.brentmichaelmd.com or call the office directly at (310) 829-7777.