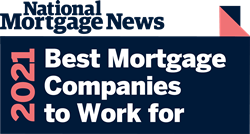 "Our organization is lucky to have among our ranks many of the finest loan professionals in the mortgage industry. I am proud of how hard they work to represent the interests of our clients with the highest professionalism and loan expertise!" -PRMI President of Retail, Chris Jones
SALT LAKE CITY (PRWEB) March 09, 2021
Primary Residential Mortgage, Inc. (PRMI) is proud to announce its recognition as a 2021 Best Mortgage Company to Work for by National Mortgage News.
"We're thrilled to be named a Best Mortgage Company to Work for," says PRMI President of Retail, Chris Jones. "We work hard to create a culture that respects the entrepreneurial spirit of more than two thousand talented employees. The trust and support we provide shows in the tenure of those associates. Our organization is lucky to have among our ranks many of the finest loan professionals in the mortgage industry. I am proud of how hard they work to represent the interests of our clients with the highest professionalism and loan expertise!"
This award is specifically dedicated to showcase mortgage companies that go above and beyond for their employees. Best Companies Group required an extensive survey to be completed by company employees to be considered for the award. The survey covers eight areas specifically: Leadership and Planning; Corporate Culture and Communications; Role Satisfaction; Work Environment; Relationship with Supervisor; Training, Development and Resources; Pay and Benefits; and Overall Engagement.
Primary Residential Mortgage, Inc. is a nationwide, multibillion-dollar operation cofounded in 1998. Its top leaders are authorities in the mortgage industry. With over 300 branches, licensed in 49 states and more than 2,000 employees, PRMI has been repeatedly recognized as a top mortgage lender. For more information, call 800-255-2792, visit primeres.com, or follow us on LinkedIn, Twitter and Facebook. PRMI is an Equal Housing Lender. NMLS #3094.