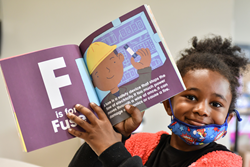 CHARLOTTE, N.C. (PRWEB) April 22, 2021
Primary Talent Partners last week partnered with Guidant Global and Dr. Natoshia Anderson to host a book reading and shoe giveaway event with ABS Students' kindergarten class. The event was part of Primary Talent Partners' DiversIT Enrichment Program, a program aimed at raising awareness and increasing minority representation in STEM fields. The program is focused on K-12 students in order to educate at an early age the importance of diverse representation in IT, Engineering, and related STEM fields.
"There is a severe, generational issue with minority representation in STEM degrees and its related careers across the country," said Tinisha Bookhart, Partner and Director of IT Staffing at Primary Talent Partners. "Studies show that over 40% of Black STEM students drop out of school or change majors compared to just over 20% of their white peers, and these are trends that we must stop dead in their tracks in order to improve diversity in STEM and better the lives and futures of all."
Two main factors contributing to these statistics are a lack of funding to complete their degree, and a lack of feeling of belonging. Since Primary Talent Partners was founded, they've worked methodically to effect change for diverse groups looking to enter into STEM-related fields. From scholarships and housing or clothing stipends, to internships and executive mentoring, Primary Talent Partners is committed to doing their part to level the playing field and help foster a growing and sustainable diverse STEM applicant pool.
"Educating, inspiring and equipping our nation's youth is one of the most effective ways to overcome these obstacles and make a difference in the future," said Dr. Natoshia Anderson. "I'm honored to partner with Primary Talent Partners to raise awareness, improve diverse representation in STEM, and give back to the community."
Guidant Global was an official partner of the event and is Primary Talent Partners' most trusted diversity supplier. Also in attendance was TIAA, a proud supporter of Primary Talent Partners' mission to help represent diversity in the workforce.
To learn more about Primary Talent Partners, visit primarytalentpartners.com.
About Primary Talent Partners: Primary Talent Partners is the premier partner for Fortune 1000 companies, providing today's most skilled and diverse talent. We help solve the most difficult talent acquisition challenges and aim to solve the most persistent hurdles to staffing diverse candidates in IT, Engineering, Life Sciences, and Corporate Professional labor categories. To learn more, visit http://www.primarytalentpartners.com.