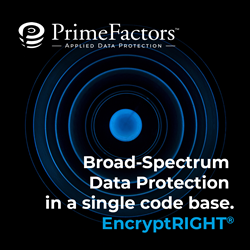 "Protecting data at the application level is complex," said Justin Teitt, chief operating officer of Prime Factors. "Often, enterprises settle for fragmented legacy products or implement solutions that take immense effort to integrate. We implement data protection without sacrificing functionality."
EUGENE, Ore. (PRWEB) February 16, 2023
Prime Factors, a leader in application-level data protection, has been recognized by Gartner® among Representative Vendors in its Market Guide for Data Masking, 2023.
In the Market Guide for Data Masking, 2023, Gartner recognized EncryptRIGHT software from Prime Factors among Representative Vendors in Data Masking, stating "for years, privacy and test data use cases have been addressed by niche data masking controls. As it matures, the data masking market is consolidating controls into data security platforms."
Gartner had previously named EncryptRIGHT as a data security platform (DSP) in its 2022 Innovation Insight for Data Security Platforms, a space that has become a top priority for security and risk management leaders who want to proactively manage technology, information and resilience risk.
Gartner observes, "although DM products originated to address use cases different from tokenization and [format preserving encryption], product architectures and supporting functionality have a lot in common, and we are seeing some market convergence." Yet, according to Gartner, "the number of technologies that teams utilize for data protection has been creeping up as the complexity of requirements has been evolving faster than vendors have consolidated and integrated technologies."
"Protecting data, especially at the application level, where data is most at risk, can be exceptionally complex," said Justin Teitt, chief operating officer of Prime Factors. "Far too often, we see enterprises either settle for fragmented legacy products that offer limited functionality or attempt to implement solutions that take tremendous effort to integrate, leading to implementations that last months or even years and require exhaustive upkeep. However, EncryptRIGHT, one of the world's first and most advanced DSPs, was designed to simplify implementing data protection at the highest level without sacrificing functionality."
The Market Guide advises, "the need to mask sensitive data at scale and to protect and govern sensitive data assets has increased as organizations have rapidly modernized their data and analytics (D&A) architectures. Data masking (DM) is a practical and mature technology for deidentification of data, while still allowing for some analytical capabilities."
"We believe that data masking is a key component of an organization's overall data security program," said Henry Cheli, CEO of Prime Factors. "However, we continue to stress the importance of this functionality being a part of a wider set of functionality that modern enterprises need to protect data and enforce privacy. EncryptRIGHT delivers a broad spectrum of data protection functionality that an enterprise of any size needs to mitigate data risks, including tokenization, encryption, dynamic data masking, traceability, access controls, and key management, working seamlessly at the application level in a single code base that is easy to deploy and manage. Now robust data protection can be implemented at the application layer without expensive and prolonged integrations and without needing application programmers to be cryptography experts."
Gartner clients can access the full report here.
*Gartner, "Market Guide for Data Masking, 2023", Andrew Bales, Joerg Fritsch, January 31, 2023.
Gartner Disclaimer
GARTNER is a registered trademark of Gartner, Inc. and/or its affiliates in the U.S. and internationally and are used herein with permission. All rights reserved.
Gartner does not endorse any vendor, product or service depicted in its research publications, and does not advise technology users to select only those vendors with the highest ratings or other designation. Gartner research publications consist of the opinions of Gartner's research organization and should not be construed as statements of fact. Gartner disclaims all warranties, expressed or implied, with respect to this research, including any warranties of merchantability or fitness for a particular purpose.
About Prime Factors
For more than 40 years, Prime Factors has secured an open and collaborative digital world with cryptographic software solutions for payments, information exchange, and general data protection. With more than 1,000 customers, across six continents, in a variety of industries, including 80 percent of the top financial institutions in North America, Prime Factors is the established global leader in applied data protection software. Prime Factors' flagship data security platform, EncryptRIGHT, helps to simplify the complexities associated with protecting sensitive information at the application layer where it is most at risk to secure sensitive information and enforce privacy everywhere data is used moved, or stored.
Learn more at https://www.primefactors.com/data-protection/encryptright/
About EncryptRIGHT®
Leveraging a Data Security Governance approach, EncryptRIGHT defines and enforces how data is protected, who can access secure data, and what form the data takes when access is granted. In a single code base, EncryptRIGHT combines a variety of different security techniques, including encryption, hashing, digital signing, redaction masking, tokenization and dynamic data masking, along with role-based access controls, and audit logging and reporting, to robustly define and enforce data privacy. By abstracting data protection policies from application programming, EncryptRIGHT delivers application-native data protection in just a few lines of code – significantly simplifying the enforcement of data protection in a way that drastically reduces implementation times, while enforcing a complete separation of duties between information security and application programming. EncryptRIGHT delivers application-level data protection, simplified.