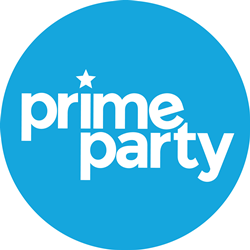 MONROE, Wash. (PRWEB) October 01, 2020
With celebrity painter Bob Ross's birthday approaching on October 29, Prime Party wants to help fans celebrate "Bobtober," as they have termed it, with an entire line of officially licensed Bob Ross-themed party décor and supplies.
Famous American painter Bob Ross created his masterpieces using a "wet-on-wet" oil painting technique, also known as "alla prima" or "direct painting," but he is arguably better known for his iconic television show than for his actual paintings. In 1982, he launched the TV show The Joy of Painting on public television. In each 30-minute episode, Ross instructed his audience on painting techniques, narrated his thought process with each brushstroke and offered words of wisdom on life all while creating a painting during each live episode.
"Bob Ross's positive outlook on life and passion for teaching others are inspirational," said Shane Smith, Prime Party president. "We're trying to make it as easy as possible for fans to celebrate him and make new memories with family and friends at the same time."
The painter is perhaps best known for his upbeat attitude, calming voice and referring to things such as clouds, trees and wildlife as "friends." He is famous for phrases such as "we don't make mistakes, just happy little accidents" and "there's nothing wrong with having a tree as a friend." Sayings such as these have led to thousands of Bob Ross tributes and parodies.
With such devoted Bob Ross enthusiasts and an almost cult-like following, there is no shortage of Bob Ross memorabilia available including Bob Ross themed cookbooks, painting supplies, board games, apparel and even small appliances like toasters and waffle irons. The Atlantic even recently featured an article entitled "Why Is Bob Ross Still So Popular?" which delved deeper into the phenomenon of the painter's ever-growing fan base.
With COVID-19 causing many Americans to stay home and shelter in place, it's the perfect time to throw a Bob Ross themed party for a small group of family or friends. Jennifer Perkins of jenniferperkins.com even used one of the Prime Party kits to throw a virtual Bob Ross painting party, saying it was the perfect way to infuse new life into your next virtual "hang out."
Prime Party offers products to facilitate epic "Bobtober" celebrations with Bob Ross-themed paper tableware products, tablecloths, icing sheets for cakes, a life-size cardboard cutout of the painter, photo booth supplies, Bob Ross wigs, games such as ring toss and bingo, and a new offering of water bottle wraps. Prices range from $1.99 for the Bob Ross activity sheets to $39.99 for the deluxe party pack.
To view the collection, visit: http://www.primeparty.com.
About Prime Party
Launched in 2018, games and activities are the cornerstone of Prime Party offerings, providing at-home and professional party planners unique celebration essentials including party kits, cardboard cutouts, oversize prize punch games, and fun props for photo booth and other celebratory events. Created by Shane Smith, a 20-year veteran of the intellectual party space and his wife Cara, who handles creative and marketing services for the company, themes include Beverly Hills 90210, Bob Ross, Star Trek, Cheers, Rainbow Unicorn, Llama Llama, Max & Ruby, Geronimo Stilton and The Golden Girls. Learn more at http://www.PrimeParty.com or on Facebook, Pinterest, Instagram, and YouTube.
# # #