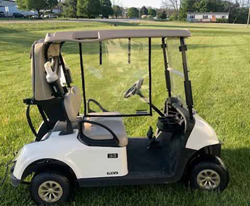 The PrimexProtect™ Eagle and Birdie lines of golf cart dividers are easily installed on any golf cart.
Richmond, Ind. (PRWEB) May 13, 2020
Most golf courses around the nation are slowly opening following months of closures and restrictions. But golf carts have been in short supply at many courses since most are requiring golfers to use individual carts. In order for courses to keep golfers on the course while still practicing social distancing, Primex Plastics Corporation has created the PrimexProtect™ Eagle and Birdie lines of golf cart dividers (patent pending). They are easily installed plastic shielding systems for golf carts. Now carts can be shared by two golfers while helping maintain social distancing, getting courses running at full capacity.
The Eagle system extends from the seat back to the dash, while the Birdie version runs from the seat back to the front edge of the seat. Both systems are made from clear vinyl sheet, attach easily with no drilling or tools required, and roll up out of the way when not needed. The dividers are constructed with hook and loop fasteners for attachment to the cart roof, and galvanized wire weighting at the bottom. They can be disinfected with mild soap and water or most cleaning agents.
Prices for the Birdie version start at $29.95 each, while the Eagle starts at $49.95 each.
Since early March, Primex has been producing its line of PrimexProtect™ products to ensure safety for first responders, medical personnel, other employees and customers. With the Eagle and Birdie dividers, the product line keeps expanding and now includes face shields, social distancing barriers and medical waste containers, as well as social distancing signage and ear protection.
All PrimexProtect™ products are proudly produced in Richmond, Indiana at Primex's Design & Fabrication division.
For more details visit our PrimexProtect™ web page.
About Primex Plastics Corporation
Primex Plastics, a subsidiary of ICC Industries, Inc., is the largest extruder of custom sheet in the industry, ranging from monolayer sheet to tri-layer co-extrusion. In addition to its extrusion business, Primex is the parent company of Primex Design & Fabrication and Primex Color, Compounding & Additives.
For more information visit http://www.primexplastics.com.