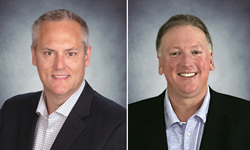 We want to make sure we are leveraging both Paul and Jim's experience as we grow our markets and develop new products for our customers
RICHMOND, Ind. (PRWEB) February 07, 2020
Primex Plastics Corporation, the leader in custom extruded plastic sheet and roll products for thermoforming, fabrication and printing, has announced the promotion of Paul Uphaus to the position of director of applications development and technical services, and Jim McVicar has been promoted to the position of western regional sales manager. Both long-time veterans, Uphaus has been with Primex since 1989 and most recently was commercial development manager. McVicar joined in 1999 and was previously a senior territory manager for the Chicago area.
The promotions are part of an internal realignment, according to Vice President of Sales and Marketing Tim Schultz. "We want to make sure we are leveraging both Paul and Jim's experience as we grow our markets and develop new products for our customers," Schultz said.
Since joining Primex at age 21, Uphaus has always demonstrated increased value, most recently serving as a technical resource to the sales team. Paul is now taking on a more strategic role and supervisory responsibility over a diverse technical resource team. This includes both a Packaging and Print specialist and our technical support team operating out of our JJF Technical & Innovation Center.
"I'll be more involved in conducting market research and analysis, while acting as liaison between sales, operations and the customer to meet specifications," Uphaus said.
"It's been amazing to see our growth over the past 30 years. With the willingness of our parent company, ICC Industries, Inc., to reinvest in our business and to empower our employees, I only see more growth in our future," Uphaus said.
McVicar will now have five territory managers reporting to him at his office in Mesquite, Nevada and cover the entire West. "It's a huge increase in responsibility for Jim, who previously managed sales in Illinois and Wisconsin," said Schultz. McVicar is up to the challenge after managing Primex's most valuable territory in terms of both dollars and pounds sold.
"I believe in the saying 'a rising tide lifts all boats,'" said McVicar. "Nowhere is that truer than at Primex. In twenty years, I've witnessed amazing change here. We have the company commitment and team to greatly expand our reach and provide important value to our customers. I'm proud to play a part in that."
About Primex Plastics Corporation
Primex Plastics, a subsidiary of ICC Industries, Inc., is the largest extruder of custom polystyrene sheet in the industry, ranging from monolayer sheet to tri-layer co-extrusion. Primex also extrudes many polyethylene resins, polypropylene, ABS, TPOs, TPEs and PETG.
In addition to its extrusion business, Primex is the parent company of Primex Design & Fabrication and Primex Color, Compounding & Additives.
For more information visit http://www.primexplastics.com.