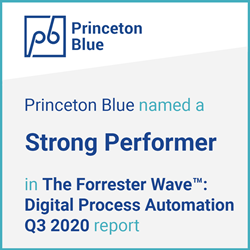 "Princeton Blue drives consistent value while keeping project costs low. It also places a premium on working side by side with clients to drive skills transfer throughout projects." - The Forrester Wave™: Digital Process Automation Service Providers, Q3 2020 report
PRINCETON, N.J. (PRWEB) March 02, 2021
Princeton Blue, a leader in Low-code Process Automation, has been named a "Strong Performer" in the "The Forrester Wave™: Digital Process Automation Service Providers, Q3 2020" report. Princeton Blue is recognized as one of the top 13 Digital Process Automation service provider firms that matter most. The report aims to help application development and delivery (AD&D) professionals select the right service provider for their needs.
According to the Forrester report, "Princeton Blue drives consistent value while keeping project costs low. It also places a premium on working side by side with clients to drive skills transfer throughout projects."
The Forrester report also notes, "… [Princeton Blue is] driving deeper into pharmaceuticals as a primary vertical focus with a growing practice in financial services." The report also notes that "Princeton Blue excels in change management, delivery methodology, and market approach. It offers a very clear and successful strategy for project execution …"
"It is an honor for Princeton Blue to be recognized as a strong performer amongst the 13 Digital Process Automation service providers mentioned in the Forrester Wave report. I believe this report recognizes Princeton Blue's ability to deliver Low-code Process Automation solutions for our clients quickly and efficiently," said Pramod Sachdeva, Founder and Managing Director at Princeton Blue.
"In 2020, we delivered 98 automation initiatives for our clients and 48 of those were in the Life Sciences industry. In addition, the Princeton Blue Innovation Lab delivered 19 Proof of Concepts in 2020 for our clients - an indication that Low-code Process Automation will be even hotter in 2021," Pramod Sachdeva added.
Read more in "The Forrester Wave™: Digital Process Automation Service Providers, Q3 2020" report.
About Princeton Blue
Princeton Blue is a leader in Low-code Process Automation with 644 automation projects delivered over the past 14 years. We help clients innovate and modernize their most strategic business processes while simplifying and enhancing their customer experience. Our deep understanding of modern automation technologies (Low-code, BPM, Dynamic Case Management and RPA) allows us to deliver fully customized and integrated automation solutions in weeks.
Connect on LinkedIn: https://www.linkedin.com/company/princetonblue