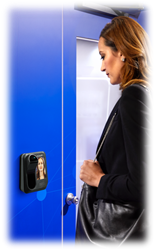 Keeping students, faculty and staff safe on campus is the utmost priority.
HAMILTON, N.J. (PRWEB) June 01, 2020
Over the last 10 weeks, colleges and universities across the United States have been met with the challenge of moving students to a remote learning platform. As it nears to the start of a new school year, many universities and colleges are looking at ways to re-open their campuses in the most secure and safe manner.
Adoption of touchless biometrics is a fast, safe, and convenient way of providing high-assurance access to students, staff, and employees on campuses. Princeton Identity (PI) biometric readers start off securing a single room or building and expand into campus-wide solutions.
Terry Schulenberg, Vice President of Business Development says, "For many students, college is an away game, a real-life obstacle course to run without parental supervision in their transition to adulthood. Parents of prospective students assess campuses and staff seeking a safe yet open environment for their young adults. Such an ideal environment challenges administrators to balance the need for an open campus with parental expectations for comprehensive security. Biometric solutions from PI promote security by offering seamless, touchless, high-assurance identity management starting in physical access control. PI solutions extend further to applications that provide logical access into campus applications."
PI provides a path to high-assurance identity management starting with seamless access control that campuses can deploy quickly. Initially, students and staff use touchless biometric readers to conveniently enter buildings, dormitories, and athletic facilities. In parallel, as students get used to and adopt biometrics, these access control systems naturally transition to logical access where students biometrically glance for library or cafeteria transactions.
Sean Singer, VP of Engineering says , "PI's biometric readers behave like a card reader so interfacing to your existing access control system is painless. Existing wiring from a card-reader can be re-used for single or dual-factor. Furthermore, the backend software integrates with existing access control systems. Since most schools have names and credentials in place, the new readers can be operational in less than a day. Also, as new students or staff are added to the access control system, those names are synchronized into the system automatically; complete the process with a simple enrollment, and touchless access is up and running. "
Cafeterias
Students are familiar with a 'card-swipe' for food services on campus, but in post-pandemic planning, touchless applications offer safer alternatives. Networked to the payment system, the iris biometric readers perform the same card-swipe function, but with a simple glance by the student. Touchless systems provide a hygienic approach for the new-normal. Additionally, iris biometrics still work with personal protective equipment offering touchless identity management while avoiding the need to remove gloves and masks or fumble with identification.
Athletics
Athletics are an integral part of the college experience for many incoming students, whether casually or as intercollegiate athletes. To streamline access to athletics facilities, PI systems replace ID checks, codes, and cards with a touchless, token-less biometric glance. PI recommends starting with biometric readers on team facilities and recreation centers where athletes do not have to carry identification for high assurance access, then expanding to all athletic facilities such as gymnasia and pools. PI's high throughput biometric readers process hundreds of entries per hour.
Laboratories
Science, engineering, medical and, datacenter buildings contain valuable, restricted, sometimes controversial, and potentially dangerous samples, materials, and equipment. Users of PI systems benefit from touchless identity management using biometrics while avoiding the need to remove gloves or masks or fumble with identification. PI biometric systems ease access to laboratories and materials supplies with a simple glance toward doors and cabinets, replacing traditional cards and codes. Enterprise users can transition card readers on exterior doors and elevators to biometric readers to ensure security throughout the common spaces of an entire building or campus.
Summary
Princeton Identity's patented biometric technology offers the most secure and convenient solutions for organizations to streamline security, increase throughput, and control costs. Our solutions are ideal for authentication in markets such as campuses including universities and large enterprises. The company's multimodal biometric solutions employ distinctive iris and facial recognition technologies designed for accuracy and convenience (http://www.princetonidentity.com).