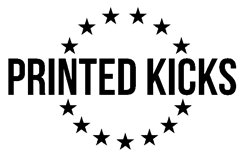 LAS VEGAS (PRWEB) June 02, 2020
As the COVID-19 pandemic continues to devastate the U.S. economy, the American and family-owned online retailer Printed Kicks is doubling down on its commitment to its employees, suppliers and USA-based production.
The online apparel retailer of conservative and patriotic gear, including hats, masks, face covers, shirts and more, has seen an uptick in orders as America gets back to work and emerges from lockdown. Printed Kicks is committed to supporting the more than 150 families comprising its employees and suppliers. Never in the company's history has this been more important as the nation's unemployment rate steadily rises. In California and Michigan, where Printed Kicks' printing and embroidery suppliers are located, the unemployment rates are approaching 25 percent and 23 percent, respectively.
Printed Kicks' mission-forward goals are to maintain its workers' jobs, while providing faster shipping services for its valued customers nationwide. With lockdown regulations lifting, shipping of all Printed Kicks products is resuming quickly and will be at full speed within three weeks. Presently, each and every employee at the company is working tirelessly to not just meet but exceed their customers' expectations.
All Printed Kicks employees are focused on ensuring customers receive their orders as quickly as possible during these unprecedented times. An advantage the company has over other similar online retailers is the majority of its products are made in the USA and all product printing and embroidery is completed by American workers in both California and Michigan.
To purchase Printed Kicks' conservative and patriotic gear and support the more than 150 American families involved in their production in Nevada, California and Michigan, visit https://www.printedkicks.com/ or follow them on Facebook at https://www.facebook.com/printedkicks/
About Printed Kicks
Nevada-based Printed Kicks is a family-owned, proudly American business with suppliers in California and Michigan. The company's founders and its employees are close to those who are on the front lines, including nurses, police officers, fire fighters, military personnel and all those who work daily to keep us safe and healthy. Giving back to American communities is a cornerstone of the company's philosophy and donations are frequently made to various charities. It strives to provide products which are made in the USA and is always searching for additional American suppliers to support the U.S. economy.
Media Contact
Printed Kicks Customer Service
info@printedkicks.com
Tel. 833-875-4257