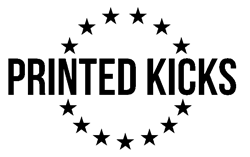 LAS VEGAS (PRWEB) July 28, 2020
With an estimated 30 million people in the U.S. presently on unemployment, the family-owned and proudly American online apparel retailer and supplier of conservative and patriotic gear is re-committing to its employees and suppliers during these unprecedented times. Each customer who makes a purchase from PrintedKicks is actively helping support more than 200 American jobs. This includes U.S. workers who are printers, embroiders, packers and shippers.
The company also has increased production at its Michigan facility to keep up with demand as the 2020 election kicks into high gear. Its conservative and patriotic apparel, including hats, mask face covers, polos, T-shirts, tumblers, mugs, flags and shoes have been popular with customers nationwide. PrintedKicks recently introduced its Freedom Leather Patch Hat Collection starting at $15 featuring dozens of slogans in several colors and styles. And for a limited time, PrintedKicks has debuted four bundles starting at $54.99 that lets customers pick their apparel, tumbler, hat and the bumper sticker and decals will be included with the purchase. New customers visiting PrintedKicks.com for the first time can enter their email address and receive 20% off their entire first order and returning customers can receive 20% off their order by entering SUMMER20 at check out.
To keep up with the strong demand and ensure an unparalleled shopping experience, PrintedKicks has added more customer service staff. The company is striving to return to pre-pandemic shipping and customer service response speeds – and eventually exceed them.
Visit https://www.printedkicks.com/ to make a purchase and support over 200 American jobs right now. For all the latest PrintedKicks news and special promotions, follow them on Facebook at https://www.facebook.com/printedkicks/
About PrintedKicks
Nevada-based PrintedKicks is a family-owned, proudly American business with suppliers in California and Michigan. The company's founders and its employees are close to those who are on the front lines, including nurses, police officers, fire fighters, military personnel and all those who work daily to keep us safe and healthy. Giving back to American communities is a cornerstone of the company's philosophy and donations are frequently made to various charities. It strives to provide products which are made in the USA and is always searching for additional American suppliers to support the U.S. economy.
Media Contact
PrintedKicks Customer Service
info@printedkicks.com
Tel. 833-875-4257