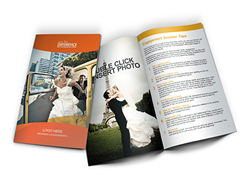 We can be part of helping more people display their memories
(PRWEB) October 13, 2016
It is estimated that professional photographers take approximately 4,160 digital photos a month just for business. And thanks to the enhanced capabilities of cellphone cameras, industry experts predict amateur photographers will take another 3,650 photos per year per person by 2017. That means a global population of photographers taking 14 trillion pictures annually.
But according to Professional Photographers of America (PPA) and its partners in the PRINT Movement, like Canon and Kodak Alaris, there is a big problem: consumers (and some professionals) are not printing and saving their photos and therefore, their memories. In fact, PPA discovered that a staggering 53% of consumers have not printed a photo in more than 12 months, 70% do not have photos albums, and 42% no longer print photos at all.
To help highlight the importance of saving images in a non-digital form, PPA has partnered with industry leaders to launch the PRINT Movement, an awareness campaign for consumers to see the value in showcasing and preserving their lives or their families' lives through high-quality prints, albums, and all types of photographic displays.
In addition to PPA, the movement is supported by American Color Imaging (ACI), Bay Photo, BWC Printmakers, Canon, Canson Infinity, ChromaLuxe, Collages, Finao, Fundy Designer, GW Moulding, H+H Colorlab, Hahnemühle, Kodak Alaris, Marathon, Meridian Professional Imaging, Miller's, Simply Color Lab, Tyndell Photographic Packaging, and White House Custom Colour.
PPA and its partners are providing resources to photographers in a variety of ways. Their website, PRINTmovement.org, features customizable brochures, marketing materials and videos showcasing the value of print. There will also be several workshops and related learning opportunities at Imaging USA 2017, the largest photography convention and trade show in the U.S., held January 5-10, 2017 in San Antonio, Texas. These workshops will be taught by some of the most respected names in professional photography and will detail both printing skills and sales techniques and provide advice to boost the profitability of photography studios while spreading the word about the movement.
How One Photographer is Winning – Selling Only Prints
The simple fact is that technology is changing so fast that many photos taken five or six years ago are stored on devices no longer supported. It is a problem for both amateurs and pros alike. With this in mind, about a year and a half ago, Nashville photographer Krista Lee Newbill of Krista Lee Photography, made a business decision to stop selling digital files and only sell prints.
Not only has this bold move helped Newbill rediscover the art of print, it has boosted her bottom line. Her customer base has increased, her per-session sales average is up, and she is seeing increased foot traffic in her storefront with clients clamoring for her artisanal and "hand crafted" images. "It's so easy to get busy and not have time for prints…we can be part of helping more people display their memories," says Newbill, a PPA member since 2008.
Newbill and other photographers' commitment to raise print awareness could not come at a better time. Data gathered by PPA indicates that without a worldwide change in photographic preservation habits, 42% of people (ages 30-44) will likely look back and wonder where photos of their childhood, holiday get-togethers, relatives and friends have gone decades from now because no print exists.
"Unless we change our ways, I think time will prove that we have gambled away our family histories – trusting too much in our ability to protect our memories on our phones, tablets and other devices," said David Trust, PPA's CEO. "It is a failed notion that we will all pay for. On the other hand, this unfortunate reality is giving PPA an opportunity to make a difference by creating a program that will help the public understand the importance of purchasing and creating printed photographs."
About PPA
Professional Photographers of America (PPA) is the largest international non-profit association created by professional photographers, for professional photographers. Almost as long-lived as photography itself, PPA's roots date back to 1869. Nearly 30,000 photographers belong to PPA as it helps them be more successful through protection, education and resources. See how PPA backs photographers and helps them Be More at PPA.com/BeMore.