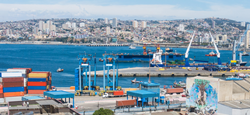 Ecommerce—and the logistical capabilities it requires—will play an increasingly large role in the overall Latin American retail economy.
MIAMI (PRWEB) February 15, 2021
The fastest-growing regional ecommerce market in the world is Latin America, where last year total retail ecommerce sales grew 36.7%, to $84.95 billion. Among the larger individual economies in the region, Argentina was the fastest-growing, with a retail ecommerce increase rate of 79.0%; Brazil's ecommerce growth rate was 35.0%, and Mexico's was 27.0%.(1) "Normally, our holiday rush begins in November," says A.J. Hernandez, president and CEO of international business-to-consumer shipping firm SkyPostal, Inc. "Last year, it started in July, and basically never ended."
Hernandez, whose firm is widely recognized as the industry leader in Latin American shipping and delivery logistics, notes that Latin America is, in addition to being a rapidly growing ecommerce market, one of the world's most complex economic regions. It consists of 33 individual countries and an additional 15 dependencies and territories, ranging in population size from Brazil's 212.6 million to 3,480 people in the Falkland Islands.(2) Most of these entities have their own currencies and taxation and customs authorities. They also have their own postal systems, which are widely regarded as unreliable.(3)
For a merchant or other shipper, says Hernandez, the key to negotiating this maze is to employ the services of an experienced third-party private shipping company. For the shipping company, it is data. For example, he notes, many countries in Latin America require a shipment to bear the tax ID of the recipient. Many merchants, however, do not require this information at checkout. "When we receive the shipment," he says, "we match the information provided—name, address, etc.—against a database of tax ID numbers. We're above 98% compliance for the countries that require it."
Looking out to the future, Hernandez says, his firm believes that ecommerce—and the logistical capabilities it requires—will play an increasingly large role in the overall Latin American retail economy. Before the pandemic, he says, there was a trust barrier: many Latin Americans were afraid to put their credit card information online. That also included American citizens reticent to do business with Latin America for fear of credit card fraud. Then COVID came, the stores closed down, and they had no choice. The last year, he says, has created a level of confidence that will sustain the region's growth in ecommerce even after the pandemic has lifted.
To retain that level of confidence, Hernandez strongly recommends that merchants use specialists in Latin American logistics to handle their shipping. And the most important aspect of logistics, he says, is data: the better the data, the better the results, and vice versa. If you have bad addresses, or missing tax IDs, or missing harmonized tariff numbers—which is what the customs authorities of the world use to identify merchandise type—you get bad deliveries and unhappy consumers.
To avoid that, SkyPostal provides its clients API based solutions that coordinate their own checkout systems with all the necessary delivery data. "What we actually are," says Hernandez, "is an IT company that happens to deliver packages. Our goal is to make it possible for merchants to not know any of this and still get their stuff delivered."
About SkyPostal:
SkyPostal was created in 2001 to meet the need for improved and efficient cross-border mail and parcel service from the United States and Europe to all countries in Latin America, the Caribbean, and Mexico. It is now the largest private mail and delivery network in Latin America, serving European postal administrations, major publishers, the world's largest ecommerce retailers, international shippers, and financial institutions that require reliable and secure delivery of their mail and parcels. For more information, please see http://www.skypostal.com.
1. Ceurvels, Matteo. "Latin America Will Be the Fastest-Growing Retail Ecommerce Market This Year." Insider Intelligence, 14 Dec. 2020, emarketer.com/content/latin-america-will-fastest-growing-retail-ecommerce-market-this-year.
2. "Countries in Latin America and the Caribbean:" Worldometer, worldometers.info/geography/how-many-countries-in-latin-america/.
3. Bose, P. et al. "Which Country Has the World's Worst Postal Service?" CLASSIC LATIN AMERICA, 28 Oct. 2018, classiclatinamerica.com/which-country-has-the-worlds-worst-postal-service/.