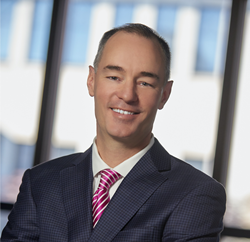 "The Signet organization today yields an outlook of stability and optimism," Anthony (Tony) Manna, Chairman and Founder, Signet LLC.
AKRON, Ohio (PRWEB) December 16, 2020
Signet LLC, the national private investment firm with corporate offices based in Akron, Ohio, today announced the naming of Mark Corr as President and CEO after an 11-month transition in both executive leadership and structure for the firm. The elevation of Corr provides the organization with stability and continuity moving forward, cementing the management structure for Signet under Corr's strategic leadership and vision.
After the unexpected passing of Signet's longtime CEO and partner Ken Krismanth in July of 2019, Corr (formerly President and COO), stepped in as acting CEO, taking on Krismanth's responsibilities as lead overseer over the entire Signet portfolio. As acting CEO, Corr began a transitionary initiative to enhance the corporate office's impact and reach over their portfolio companies and real estate projects in the areas of strategic management, accounting, human resources, and marketing. Corr created an Executive Leadership Team to collaboratively oversee the strategic management of the portfolio which includes himself, Ralph Sciulli (CFO), Joel Maas (Director of Marketing), and the newly added Holly Colson (Director Of HR).
During the transition period, the team added several key executive roles to the organization, including HR Director (Colson) and Real Estate Group Controller (Jason Schoch). Corr also elevated two Real Estate Group executives, Kevin Belt and Spencer Hyatt, to take over the real estate development operation as Senior VP's and Co-Managing Directors. The executive team also has plans in the coming weeks to announce the selection of a new President of Signet Real Estate Group's Property Management Division.
Signet's Chairman and Founder, Anthony (Tony) Manna, sees the transition to Corr's leadership as a very momentous step in the history of the firm, which celebrates its 25th anniversary this year.
"The Signet organization today yields an outlook of stability and optimism," says Manna. "Our corporate infrastructure is in the final stages of transitioning from a decentralized, 'Managing Partner-guided model' to a centralized and collaborative team-based approach under Mark, who is extremely well-deserving of his promotion to CEO. This approach requires that our various leadership teams operate with the highest level of transparency and communication, redundancy and depth in all key managerial responsibilities, while being held accountable to achieve performance metrics and operational standards of excellence. Mark has the intangible leadership qualities and the effective management style to ensure this strategic vision is effective, and I have no doubt it will be."
Corr is excited for the opportunity to lead Signet and is pleased with the corporate transition, which has already seen a positive impact on its portfolio companies and real estate projects.
"Our efforts to centralize and streamline Signet's corporate impact has been very effective, and has improved our efficiency and responsiveness, while expanding the array of highly-skilled resources dedicated to supporting each operation and opportunity," says Corr. "Our success throughout this transition period is only a testament to the past 25 years of leadership at Signet, which has yielded immense growth for us. I humbly look forward to serving the Signet family and continuing the outstanding legacy of leadership while bringing my own vision and structure to the organization."
As a first step as permanent CEO, Corr is formally announcing a new strategic vision for Signet, organizing its portfolio and proactive investment into three principal platforms: (1) the Chemical Specialties Group; (2) Integrated Wellness Partners; and (3) Signet Real Estate Group.
"Though Signet will always be opportunistic, we will be much more strategic and proactive in our engagements, grouping our investments around a three-pronged platform approach," says Corr.
"The Chemical Specialties Group, consisting of five manufacturing/service companies, is poised to experience rapid organic growth while exploring strategic partnerships, add-on acquisitions and opportunities for innovation and new product investment and development."
"With the commencement of our world-class health and wellness facility project in Lake Nona, Florida, combined with the industry-decimating impact of the COVID-19 virus, Integrated Wellness Partners has the potential to become a national story of resilience and courage while contributing toward the nation's renewed focus on wellness solutions and healthier lifestyles."
"Signet Real Estate Group welcomes a new era of leadership across the Development and Property Management disciplines. These leadership teams possess the skills, drive and selfless attitudes necessary to unify the entire platform and raise our already high standards of excellence and market perception."
"While keeping the current healthcare crisis and its economic impact in focus, I believe Signet is prepared again to seek strategic and selective expansion opportunities toward extraordinary growth and value creation in the coming years," says Corr.
About Signet LLC
Signet brings an innovative, unconventional approach to private investment that embodies creativity and forward thinking to achieve long-term success. With leadership and expertise in the areas of project structuring, capital formation, operational investment and management, Signet tailors strategy and resources to meet each unique opportunity. Boundless in ideas and tactics, Signet has spent 25 years crafting collaborative partnerships that advance initiatives in real estate, diversified manufacturing, health and wellness, emerging technologies, investment banking and finance. Learn more at signetllc.com.
About Signet's Chemical Specialties Group
Signet's Chemical Specialties Group consists of Creative Polymer Solutions (parent to Accufoam and Accushield brands), Sprayroq, Sprayroq of China, and Bluegrass Chemical. Everything we do reflects our precision chemistry, high-accuracy manufacturing, training and dependable service. All so you can have a partner you can confidently rely on. Visit our company websites at creativepolymer.com, accufoam.com, goaccushield.com, sprayroq.com, and bluegrasschemical.com.
About Integrated Wellness Partners
Integrated Wellness Partners offers comprehensive, turnkey development, finance, and health and wellness management solutions to health systems, universities, and municipalities across the country. We have proven experience and the resources to help our clients bring wellness to their communities. Our principals provide highly specialized knowledge and expertise in distinct disciplines including health and wellness operations, real estate development, and financial solutions. Learn more at iwp-llc.com.
About Signet Real Estate Group
Signet Real Estate Group transforms complex development challenges into collaborative opportunities through a creative, flexible, and customized approach. Our team brings 25 years of experience in successful development and facility management solutions in the areas of healthcare, higher education, research, public-private partnerships and strategic infrastructure. Since our firm's inception, Signet and its family of companies have successfully managed and currently have in progress more than $5 billion in real-estate development and construction throughout the U.S. Learn more at signetre.com.