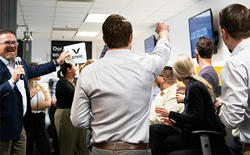 "This is a significant funding figure that few companies in this arena have reached, and an even greater testament having done so in such a short amount of time."
REDONDO BEACH, Calif. (PRWEB) May 28, 2019
Civic Financial Services reached a mortgage milestone in the private lending arena, funding over $108 million in the month of April.
"Funding this level of volume in one month is quite an accomplishment, and even mightier when you consider this feat in the context of the Private Money space," said William J. Tessar, Civic Financial Services' President and CEO, noting the entire $108 million was comprised of non-owner occupied private money financing. "This is a significant funding figure that few companies in this arena have reached, and an even greater testament having done so in such a short amount of time."
Founded just four years ago, the private money lender has emerged from start-up to lending-leader with institutional capital and perpetual growth, including multiple branch openings, additional lending states, and increased product offerings for non-owner occupied real estate financing. The lender's Multifamily value-add program has become a success, with Correspondent, Long-Term Rental, and Rehab Pro programs set for release over the coming weeks. The Rental Program is designed for real estate investors focused on aggregating rental properties and will offer a 5/1, 7/1, and 10/1 ARM product for a single asset or a portfolio of properties. The Rehab Pro program will enhance CIVIC's already competitive rehab financing program, whereas for qualified borrowers it will allow for interest to accrue only on drawn funds ─ a needle-moving enhancement for the experienced flipper with a large rehab budget.
Tessar attributes this significant funding milestone to the CIVIC team, adding "Our team is made up of talented people in various departments, divisions, and channels covering a great portion of the USA, and this goal could only be achieved by rowing in the same direction. The entire team and our clients alike played a material role in this accomplishment, and in the development of the game-changing offerings yet to come."
CIVIC FINANCIAL SERVICES is a private money lender, specializing in the financing of non-owner occupied investment properties. CIVIC was created by its parent companies, Wedgewood and HMC Assets LLC, to serve investors who don't fit traditional lending criteria. Wedgewood and HMC, two of the most respected names in residential real estate, provide CIVIC with unparalleled valuation expertise in the real estate vertical as well as access to low-cost capital. With these resources, CIVIC is able to keep all operations in-house so loans are managed more closely, quickly, and efficiently.
For more information, please visit http://www.civicfs.com.